As Moapa Valley left the field at halftime of its NIAA State Division 1-A title game with Desert Pines, it seemed rather fitting that the contest was being played at Bishop Gorman's Fertitta Field.
After all, a running clock in the second half of blowout wins by the undefeated Gaels has been the norm the past two months. And Moapa Valley, which trailed 20-0 and easily could have been down even more, appeared to be headed on the wrong end of that scenario against the explosive Jaguars.
But two hours and an overtime later, Pirates coach Brent Lewis and his squad were remarkably celebrating the 16th state football title in school history after pulling out a wild 42-36 victory.
(STORY CONTINUES BELOW)
"At halftime we didn't talk X's and O's at all," Lewis said. "I challenged their manhood. It was about stepping up and responding. I literally told them that if we would show heart and smartness that this would be a game that they would talk about forever."
He couldn't have been more right.
Moapa Valley (13-0) trailed 36-12 entering the fourth quarter but scored 22 points in the span of less than eight minutes, including a 49-yard touchdown pass from Zach Hymas to running back Kaleb Bodily on fourth-and-17 with 3:09 left. Hymas, who threw for 378 yards, then hit wide receiver Cole Mulcock for a 2-point conversion to tie it, 36-36.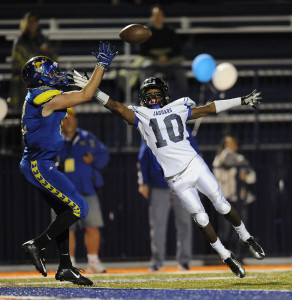 Desert Pines (11-2) won the toss and elected to start on defense in overtime. Hymas then hit R.J. Hubert in the back corner of the end zone to give the Pirates their first lead of the night, but a 2-point conversion try failed leaving the door open for Desert Pines to win it on its ensuing possession.
But on the Jaguars' first play, Dillard Davis couldn't handle quarterback Marckell Grayson's handoff on a fly sweep and Pirate linebacker Bo Redd recovered the fumble to end the game.
"I don't know of any bigger (wins in school history)," Lewis, holding the NIAA Division 1-A trophy, said.
"We knew we could come back," Hymas, who has scholarship offers from Southern Utah and Weber State but should be receiving a few more after Saturday's gutty performance, said. "Our mentality the whole time was just never quit, never quit. And the score showed it.
"At the end of the day we stepped up when we needed to. I think it will go down as the greatest win in Moapa Valley history."
The dramatic comeback overshadowed a dazzling performance by Desert Pines running back Isaiah Morris. The 5-foot-7 sophomore, who will be a high Division I recruit before he's done, had touchdown runs of 54, 65 and 21 yards en route to 177 yards rushing and had what might have been a game-clinching 54-yard touchdown early in the fourth quarter called back because of a holding penalty. He also caught a 7-yard touchdown pass.
PHOTOS BY JOSH HOLMBERG
Related Articles
Share
About Author
(0) Readers Comments