Tony Sanchez stepped back on the Bishop Gorman campus where he built a national championship football program on Friday morning for the first time since accepting the head coaching job at UNLV.
Sanchez was there to receive his national coach of the year award from USA Today project manager Matthew Wade during a school assembly. Wade also presented the Gaels with their 2014-15 national championship football banner.
"It is," Sanchez said when asked if it was his first time back at Gorman since a 70-28 state title victory over Reed on Dec. 6. "It's crazy. We won a state title. (Then) on Sunday you started contract negotiations and went right into recruiting and hiring a staff. It's one of those very unique situations where you never really had time to say thank you, you never really had time to let everybody know how much you appreciate everything they did for you to help you be successful."
Check out video of the ceremony and some other Sanchez comments below:
Sanchez wraps up his first UNLV spring practice on Saturday with a controlled 90-minute scrimmage starting at noon at the school's soccer complex, Peter Johann Memorial Field. Gates open at 11 a.m.
Fans who can't make it to the event can listen live on AM 1400 KSHP thanks to sponsor Findlay Toyota. Former UNLV head coach Harvey Hyde and former assistant coach Rich Abajian will join Tony Cordasco broadcasting live from the event from noon-2 p.m.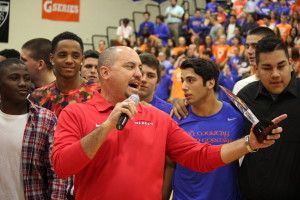 Related Articles
Share
About Author
(0) Readers Comments