It was the perfect play to pull out a hard-fought rivalry game … almost.
Bishop Gorman, trailing the nation's No. 1 ranked prep team, Findlay Prep, 50-49, with 1.1 seconds remaining, had star 7-foot forward and future NBA Lottery pick Stephen Zimmerman break open to the right side of basket for what looked like would be the game-winning basket. But 6-foot-8 forward Horace Spencer had other ideas, going up and blocking the shot at the buzzer as the Pilots hung on for the dramatic victory.
"That was crazy," Findlay Prep coach Andy Johnson said. "(Spencer) made a heck of a recovery and he didn't give up. That's what I love about it. He got up there and made a play."
"He should have dunked it," the Auburn-bound Spencer said. "He was right on me though so I guess he didn't want to do that. It's their loss."
Spencer was asked if there was any contact on the play?
"To me it was clean," he said. "I might have got him on the body from momentum, I don't know. I'm glad they didn't call it. Zimmerman's a great player. He could have dunked it if he wanted to."
(Decide for yourself in Barry Wong's VIDEO highlights below)
Many Gorman faithful felt Zimmerman was fouled on the play. But in a very physical game that at times looked more like Greco Roman wrestling under the hoop, their was no way short of decapitation that officials were going to blow a whistle at the end of this one.
Arizona-bound guard Allonzo Trier scored a game-high 26 points and had four steals to lead Findlay Prep (18-1), which could have exhaled two seconds earlier if not for a five-second violation trying to inbound the ball.
The Pilots still had two fouls to give and fouled Charles O'Bannon, who scored 18 points, on the ensuing inbounds play. Officials ruled the foul occurred before O'Bannon attempted a 3-pointer. That set the stage for Spencer's game-saving block.
"I'm proud of our guys," Rice said. "We played hard to the end. A few things didn't go our way at the end … two big plays. We had a chance to win the game twice and it just didn't go our way."
Zimmerman finished with 10 points, six rebounds and four assists while Chase Jeter and Zach Collins scored eight points each for Bishop Gorman (15-6).
Findlay Prep's win was even more impressive considering one of its best players, 6-8 do-everything junior forward Justin Jackson, didn't play after tearing meniscus in his left knee in a 76-68 overtime loss at No. 17 ranked Wayne High of Huber Heights, Ohio on Monday night.
"It shows how much heart we have," Johnson said. "I'm really, really proud of our guys. They earned it and they deserve it."
"If we had Justin, it probably would have been a lot easier," Spencer said. "But you know, when a soldier is down you've got to pick it up for them."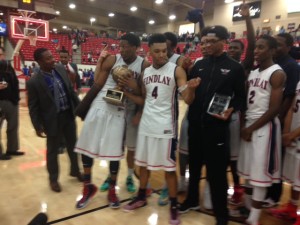 Related Articles
Share
About Author
(0) Readers Comments