Home court advantage. Don't try telling that to UNLV Lady Rebels coach Kathy Olivier.
For the fifth time in six years the Lady Rebels were one-and-done in the Mountain West Tournament, this time falling to No. 4 seed Boise State, 64-46, Tuesday afternoon at the Thomas & Mack Center.
Yaiza Rodriguez scored 15 points, grabbed eight rebounds and had six assists and Deanna Weaver and Miquelle Askew each added 11 points for the Broncos (19-10), who used a 10-0 run to take a 30-22 halftime lead and never led by fewer than four points the rest of the way, closing the game out with a 28-14 run.
Alana Cesarz had 14 points, 11 rebounds and four steals and Danielle Miller finished with 13 points for fifth-seeded UNLV (13-16), which shot 30.5 percent and connected on just 4-of-18 3-pointers. The Lady Rebels also hurt themselves by sinking just 6-of-14 free throws.
"I know people think it's our home court. It's really not," Olivier said. "I think that's the hard part. I had players going to classes today. I had players that missed shoot-around because they had a lab. You know, I think that's hard for UNLV. … Sometimes it's good to be in a hotel and you're just doing your own thing, you're in your own little pod."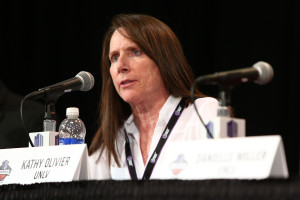 Olivier says she still prefers the tourney be held in Las Vegas, however.
"I love that it's here," she said. "I love what we do. I love what the Mountain West does. I think they do an incredible job. It's better than any tournament than I've ever gone to. We've got to figure this out and not be one-and-done because it's really, really old."
MyLVsports staff report
Photos courtesy of NCAAsports.com
Related Articles
Share
About Author
(0) Readers Comments