ANN ARBOR, Mich. – After working out at a Detroit area high school on Friday morning, UNLV's football team jumped on some buses and shot down I-94 here.
Their destination? Historic Michigan Stadium, a.k.a "The Big House."
Rebel coach Tony Sanchez wanted to make sure his young team got a good look at where they'll be playing in front of nearly 110,000 people on Saturday morning (9 a.m. PT, Big Ten Network), taking a few souvenir pictures before heading back to their hotel for study hall and meetings.
The good news is that the man on the opposite sideline Saturday, Jim Harbaugh, will be coaching the Wolverines (1-1) and not playing quarterback on the field he earned the nickname "Captain Comeback" during the mid-80's for the legendary Bo Schembechler.
Even better news is that the Rebels will have their own starting quarterback ready to go.
Sources close to the team told MyLVsports.com Friday that Blake Decker, who limped off the field at the end of the first quarter of last week's 37-3 loss to UCLA with what was later diagnosed as a strain of the obturator internus muscle near the back of his hip joint, will play and is expected to start. Sanchez had said earlier in the week that it would be game-time decision whether Decker or backup Kurt Palandech would start at QB.
Sanchez and his players were off-limits to the media on Friday but Decker seemed fine walking around the artificial turf at Michigan Stadium.
How much a difference the senior quarterback makes – UNLV is a 35-point underdog – remains to be seen, but at least the Rebels (0-2), who were competitive with No. 13 UCLA before Decker's injury, would seem to at least have a fighting chance now.
A lot will also depend on how will the Rebels adapt to playing on the biggest stage of their lives. Michigan Stadium officially holds 107,601. By comparison, UNLV drew 94,041 for its ENTIRE six-game home schedule last season.
Sanchez has tried to low-key the atmosphere and even brought out the famous Gene Hackman line from "Hoosiers" about the baskets being the same 10-feet from the floor at famed Butler Fieldhouse as at good old Hickory High. But he didn't bring out any tape measures for his squad to make sure the field at Michigan Stadium is the same size as the one at Sam Boyd Stadium.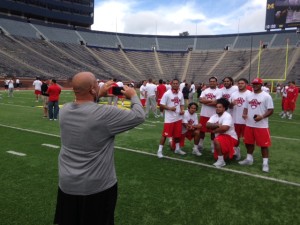 "It's an exciting opportunity," senior safety Peni Vea said earlier in the week. "But again it's just a game. It's just another football Saturday."
"If you're focused on the stadium, you're focused on the wrong thing," added senior tight end Jake Phillips. "We've got a team to play and that's all that I'm really concerned about."
Michigan opened the season with a 24-17 loss at Utah but bounced back to cruise past Oregon State, 35-7, last week. But the Wolverines have had issues at quarterback with Iowa transfer Jake Rudock already throwing four interceptions as well as losing a fumble.
Harbaugh insists he isn't worried about the interceptions despite the fact Rudock tossed five all last season as Iowa's starting signal caller.
"It's a critical part of the game, we're improving on it," Harbaugh said. "I don't think he's lost a tight grip of his mind. He's making good decisions."
Weather also could be a factor today with rain expected most of the morning along with a chance of thunderstorms around kickoff.

Related Articles
Share
About Author
(0) Readers Comments