UNLV opened fall camp on Friday morning with a couple of key new defensive line additions.
Sophomore Jason Fao (6-1, 300) and freshman Nick Dehdashtian (6-1, 290) both practiced with the Rebels for the first time after receiving scholarship offers from head coach Tony Sanchez in the spring.
"Those two guys will help us immediately," Sanchez said.
The Rebels return just one starter on the defensive line, senior tackle Sonny Sanitoa, and depth was a major concern following spring practice. The additions of Fao and Dehdashtian, who both play tackle, should help in that regard.
Fao, who originally signed with UTEP after starring at perennial southern California prep power Long Beach Poly, had 57 tackles and six sacks last season as a freshman at Long Beach City College. He still has four years to play three.
"Before I went to UTEP, me and my dad had a talk about whether I really wanted to go there or not," Fao said. "Basically I just decided not to give it a try and go the JC route for a year. I called the UTEP coaches and told them I was sorry but that I decided to stay home and play junior college instead."
Fao said Utah State, Hawaii, San Jose State and Iowa State were among the other schools that showed interest but that UNLV was the only one who would take him after one year of junior college.
"(UNLV) feels like home," he said. "It's like a brotherhood here. … I've just got to get used to the heat."
Dehdashtian, who originally committed to Nevada, missed almost his entire senior year at Santa Margarita High School in Rancho Santa Margarita, Calif., after undergoing Lisfranc surgery.
"My first game we were playing Baldwin High in Hawaii," he said. "I played 11 plays and had two sacks and tore my Lisfranc which required surgery."
Although Dehdashtian said UNR continued to recruit him, he decided to switch to UNLV when Sanchez left Bishop Gorman to become head coach of the Rebels.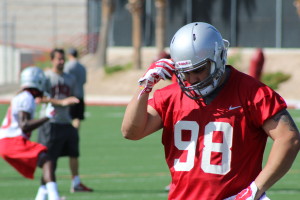 "When I was at Santa Margarita, we came up here in the summer and stayed three nights and scrimmaged (Gorman) and practiced against them and with them," Dehdashtian said. "That was the first time I met Coach Sanchez and it was special. It was like, 'Wow, this guy is a player's coach. I would love to play for this guy.'"
Now he gets that chance.
"It's weird how it all worked out," Dehdashtian said.
**
FROM BAMA TO VEGAS: Altee Tenpenny, who rushed for 218 yards and a touchdown in two years at Alabama, said he heard from schools like Ohio State, Kansas State and Oklahoma State when he announced in January that he was transferring. But the rock-solid 6-foot, 218-pounder picked UNLV instead.
So what sold the former national top 100 recruit on the Rebels?
"It's a new coaching staff and I want to be a part of something great," Tenpenny said. "It's new era and I want to be a part of that. I want to bring the city of Las Vegas back to life. … There's no history to compete with here other than Ickey Woods and the great Ickey Shuffle."
See, people really do pay attention to those GEICO commericials.
Tenpenny has two years of eligibility remaining but must sit out the 2015 season per NCAA transfer rules.
UNLV PHOTOS
Related Articles
Share
About Author
(0) Readers Comments