Simply put, UNLV's chances at winning the 2014 Mountain West baseball tournament looked very bleak Friday night.
The Rebels were trailing San Diego State, 4-1, in the bottom of eighth inning at Earl E. Wilson Stadium and the Aztecs had summoned star closer Michael Cederoth and his triple-digit fastball to try for a school-record tying 20th save.
But with two on and two out, center fielder Edgar Montes drilled a game-tying three-run homer over the left field fence to tie it, and third baseman T.J. White's fourth hit of the game, a double down the right field line, drove in shortstop Matt McCallister with the game-winning run in the bottom of the ninth to give UNLV a dramatic 5-4 comeback victory.
"It's just crazy," UNLV coach Tim Chambers said. "The crowd went nuts. It's hard to talk right now emotionally, you know. A huge comeback."
UNLV (35-21) will play the winner of the Nevada-San Diego State elimination game, which starts at 3 p.m., in Saturday night's championship bracket final at approximately 7 p.m. If the Rebels lose, the two teams will play again on Sunday at 1 p.m. for the tourney title.
How big was Friday night's comeback? The Rebels now can win the double elimination tourney with just one more victory on Saturday night. A loss Friday night would have meant having to come back to win three games in the span of about 24 hours.
(STORY CONTINUES BELOW,PHOTOS AND VIDEO COURTESY MOUNTAIN WEST NETWORK)
Making the comeback even more remarkable is that it came against the 6-foot-6 Cederoth (5-2), who is rated the No. 46 best prospect for the 2014 MLB Draft by Baseball America and throws a fastball that has touched 101 miles per hour. Cederoth was attempting to tie San Diego State's school save record set by current Arizona Diamondbacks closer Addison Reed.
But with Patrick Armstrong, who had walked, and Morgan Stotts, who had singled, on base with two outs, Montes lined a 0-1 pitch over the left field fence to tie it 4-4.
"I just got a pitch that I could hit and it just carried," Montes said of his third home run of the season and first since April 8th at Arkansas. "(It was a) fastball. He left it middle and I just put a good swing on it.
"It was great. I knew it tied up the game and I knew we had all the momentum going in, and I knew it would carry over."
That it did. After Rebel reliever Brayden Torres (2-1) wiggled out of a jam in the top of the ninth, McCallister opened the bottom half by getting hit by a pitch and then advancing to second on a passed ball. White then ended things with an opposite field double down the right field line setting off a wild UNLV celebration.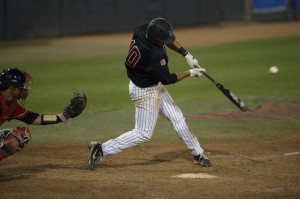 "We've been doing it all year," White said. "We're a hard-playing team that never gives up. Our new motto for the last couple of weeks has been, 'Win that next pitch, win that next pitch.' So we're just grinding and never giving up."
"It means it feels like we can come back on anybody," Chambers said. (Cederoth is) as good as anybody. I think he hit 100 miles per hour six times against us last year at their place. So he throws some serious heat."
Earlier Friday night, Nevada (31-26) stayed alive by scoring six runs in the 11th inning to knock off No. 2 seeded New Mexico, 9-4.
Related Articles
Share
About Author
(0) Readers Comments