So much for the home heat advantage.
Upset that Northern Illinois wouldn't agree to move the game to Friday night so that it could be televised, UNLV decided to kick off Saturday's game with the Huskies at 4 p.m. – or the hottest time of the afternoon – to make the visitors deal with the 100-degree heat.
Didn't matter. Northern Illinois (3-0) kept alive its impressive regular season and road win streaks with a 48-34 victory before an announced crowd of 14,305 but not before UNLV made the Huskies sweat a little in the second half.
Make that sweat a lot.
The host Rebels (1-2), who had had scored two offensive touchdowns in their first 10 quarters of the season, exploded for four TDs in less than 16 minutes to tie the game in the fourth quarter, but sophomore quarterback Drew Hare answered with a 56-yard touchdown pass to senior wide receiver Da'Ron Brown and safety Marlon Moore added a key interception in the end zone as the Huskies pulled out the victory.
It was the 26th consecutive regular-season victory for Northern Illinois and 17th straight win in an opponents' stadium, the longest such streak in the FBS.
(CHECK OUT SECOND HALF HIGHLIGHTS BELOW)


Hare, making his first college start, completed 18-of-28 passes for 285 yards and three touchdowns and also rushed for 74 yards and another score on 14 carries.
"We thought it was going to be a 60 minute game," Hare said. "We're in the desert. We're not used to this. But we prepared all week for it and were ready for a four quarter game. We stepped up when we needed to."
Four plays after UNLV had fought back to tie it, 34-34, Hare hit Brown streaking up the left sideline for the game-winner. Brown reached back up and over UNLV corner Kenneth Penny to grab the ball at the 25 and without breaking stride cruised into the end zone.
"When you have Da'Ron Brown out there, the guy is as fast as they come," Hare said. "I tried to put it up so he could make a play and he did just that. He does that a lot for us. He's awesome."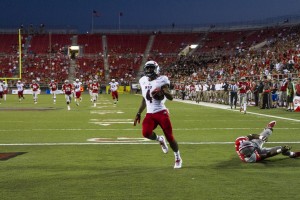 Senior tailback Cameron Stingily rushed for 102 yards and two touchdowns on 17 carries, including a 2-yarder with 1:58 remaining that clinched it. The Huskies finished with 616 yards and 35 first downs.
Still, there were some bright spots for UNLV.
Quarterback Blake Decker appeared to finally settle in during the second half comeback. The 6-foot-1 junior completed 24-of-42 passes for 397 yards, two touchdowns and an interception. Both TD passes went to senior wide receiver Devante Davis, who finished with six receptions for 150 yards.
"Obviously losing hurts," Davis, who had the ninth 100-yard receiving game of his career, said. "We finished well but we've got to start better. We had those plays in the first half but we just weren't making them."
With the aid of a safety when Northern Illinois tight end Desroy Maxwell was flagged for a chop block in the end zone, UNLV trailed just 7-5 entering the second quarter. But the Huskies pulled away with two impressive 80-yard drives capped by Hare touchdown passes.
The first was a 12-yarder to tailback Keith Harris and capped a 14-play drive. The second, which came after UNLV kicker Jonathan Leiva missed a 33-yard field goal attempt, was a 10-yarder to wide receiver Juwan Brescacin with 29 seconds left in the half.
Hare's 12-yard run bumped the lead to 28-5 after NIU's first drive of the second half. UNLV scored three touchdowns in the third — including passes of 26 and 53 yards to Davis — to cut the deficit to 31-26 entering the final quarter.
The Rebels then tied it at 34-34 on a 9-yard run by senior running back Shaquille Murray-Lawrence — remember him? — and a two-point conversion pass from Decker to Davis.
After Hare's touchdown pass to Brown made it 41-34, the Rebels drove back down to the NIU 7-yard line where Moore tipped and then intercepted a pass intended for Davis in the left corner of the end zone.
"We executed better the second half," UNLV coach Bobby Hauck said. "Certainly it's not a 30-minute game and we need to play better in the first 30. We went into this thing thinking we were going to get them. The guys were really tuned in, focused on it. Our guys are disappointed and so am I."
Northern Illinois last lost a true road game on Oct. 1, 2011, at Central Michigan, 48-41, and hasn't lost a regular season game since a 18-17 loss to Iowa on Sept. 1, 2012 at Soldier Field.
UNLV now must regroup for a key three-game road trip that begins Saturday at Houston and includes key Mountain West games at San Diego State (Sept. 27) and San Jose State (Oct. 4).
REBEL NOTES: Davis' two touchdown receptions gave him 20 for his career and moved him into a tie for fourth place in school history. He also moved up three spots to No. 5 on the all-time receiving yards list with his six grabs for 150 yards. He now has 2,454 yards. … UNLV finished with 499 yards of total offense, the most by the Rebels since gaining 579 yards against Hawaii on Oct. 12, 2013. … Decker's 397 passing yards were the most since Jon Denton threw for 401 against San Jose State in 1997.
PHOTOS BY JEREMY RINCON
Related Articles
Share
About Author
(0) Readers Comments