Interim UNLV head coach Todd Simon found something positive to focus on after the Rebels' 67-52 loss to San Diego State on Saturday night at the Thomas & Mack Center.
"We've learned where the bar is at," Simon said referring to the Mountain West leading Aztecs (16-6, 9-0), who defeated the Runnin' Rebels (13-9, 4-5) for the seventh straight time, including five in a row at the Thomas & Mack.
That bar seems pretty unattainable for UNLV these days, especially since it appears the team may be without steady junior forward Ben Carter, the team's veteran leader and most physical post player, for a while.
Carter was helped to the locker room midway through the first half with what is being called a left knee sprain and didn't return to the bench. The 6-foot-8 junior from Bishop Gorman writhed on the floor in pain for several minutes after suffering the non-contact injury.
"He's one of our leaders," Simon said. "You kind of saw some of the air go out of the team (and) the building. We didn't quite bounce back the way we needed to from that."
UNLV, which trailed 15-11 when Carter went down, rallied to tie it, 20-20, later in the first half and trailed just 41-40 after a Ike Nwamu dunk with 11:52 left in the game. But the Aztecs clamped down defensively and used a 13-4 run to pull away for a comfortable lead and the Rebels never got closer than eight points the rest of the way.
HOW IT HAPPENED: The Aztecs dominated inside, finishing with a 44-27 rebounding advantage while also frequently driving to the basket for layups. UNLV, forced to settle for 3-point tries on a number of possessions, was just 5-of-23 behind the arc (21.7 percent), including 1-of-11 (9.1 percent) in the second half.
WHO STOOD OUT: Sophomore guard Trey Kell scored 14 points and grabbed seven rebounds to lead San Diego State. Freshman guard Jeremy Hemsley scored 13 points, senior forward Winston Shepard finished with 11 points and eight rebounds and junior guard Dakarai Allen added 10 points for the Aztecs, who also won their school-record 11th straight conference game.
Freshman forward Stephen Zimmerman Jr. led UNLV with 14 points and 10 rebounds while freshman forward Derrick Jones Jr. scored 12 points and sophomore guard Patrick McCaw added 10 points but was just 4-of-12 from the floor, including 2-of-7 from 3-point range.
THE SKINNY: UNLV officials said Carter was expected to get an MRI on the left knee but it didn't look good. If the transfer from Oregon is out for a long period of time, chances of the Rebels coming to together to make a run in the Mountain West Tournament in five weeks go pretty much from slim to none.
QUOTES TO NOTE:
Simon on losing Carter midway through the first half:
"Obviously it was a pivotal moment in the game because Ben is one of the heartbeats of the team. Games like this are made for him. They're letting them play and its gritty, you can bang and do all kinds of stuff inside."
Simon on his team's poor outside shooting, including 5-of-23 from 3-point range.
"We had some good looks. On a number of occasions we passed up the first good look. We kind of emphasized all week against a team like this you have to take the first good look, and if you are hesitant, it gets you going late into the (shot) clock. … We had some really good looks that we liked from 3 and we just have to start making some of those shots. They just didn't fall tonight."
Kell, to the San Diego Union-Tribune, on the Aztecs' defensive game plan.
"Our main goal was to try … to make them score in the halfcourt. And then we kind of figured out if we stop them in halfcourt, they're going to get mad and frustrated. Once they started missing shots, we sensed the crowd getting restless and the players starting to press more."
UP NEXT: The Rebels begin a two-game road trip at New Mexico on Tuesday night at 5 p.m. PT on CBS Sports Network. The Lobos (13-8, 6-2), who were thumped by the Rebels, 86-74, in the first meeting on Jan. 12 at the Thomas & Mack, took over sole possession of second place in the Mountain West on Saturday with a 88-83 upset victory at Boise State.
NOTABLE:The 15-point margin was the largest for the Aztecs over the Rebels in 35 games played in Las Vegas. … San Diego State set the Mountain West record by winning its eighth consecutive conference road game. … The Aztecs have won 13 of the last 16 meetings with UNLV including the last five in a row played at the Thomas & Mack. … San Diego State won its 159th straight game when leading with five minutes to go. … UNLV senior guard Jerome Seagears finished with more assists (7) than the entire San Diego State team (6). … Seagears finished with just three points on 1-of-10 shooting, including 1-of-7 3-pointers. … The Rebels connected on just 3-of-9 free throws for a season low 33.3 percent. … Zimmerman now has nine double-doubles. … San Diego State finished with a 16-4 edge in second chance points.
BEN CARTER PHOTO BY SAM MORRIS/LAS VEGAS NEWS BUREAU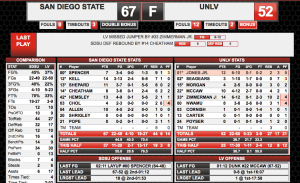 Related Articles
Share
About Author
(0) Readers Comments