A smart, tough, hard-nosed player known for making key plays in crunch time, Ben Carter developed a reputation as being UNLV's "glue guy."
Now the question is will an already bumpy season for the Runnin' Rebels become unglued after it was announced that the junior forward will miss the remainder of the season after tearing his left ACL in the first half of Saturday night's 67-52 loss to San Diego State.
Carter had an MRI on Monday morning and later was examined by team orthopedic surgeon Dr. Greg Bigler. The school announced the bad news before the Rebels left for Albuquerque where they will try and rebound against second place New Mexico (13-8, 6-2 Mountain West) tonight at 5 p.m. PT at WisePies Arena/The Pit. The contest will be televised by CBS Sports Network.
"We are very disappointed for Ben," UNLV interim head coach Todd Simon said. "He was obviously an impact player for us, but more than that he is a pillar of our program with his toughness, spirit and leadership. It is a huge loss for our team."
Carter issued this tweet about the injury on Monday night.
— Ben Carter (@Ben_Carter13) February 2, 2016
The 6-foot-9 forward from Bishop Gorman High School transferred to UNLV from Oregon and was in his first season on the court for the Runnin' Rebels after sitting out during the 2014-15 season. He appeared in 22 games and made seven starts, averaging 8.6 points and 6.0 rebounds per game while shooting 55.6 percent from the field.
Carter suffered the injury while trying to grab a rebound with 10:47 left in the first half and the Aztecs leading 15-11. Replays show the left knee buckling as a twisting Carter tried to plant the leg.
Carter immediately collapsed to the floor and grabbed his left knee. He had to be helped off the court in obvious pain and didn't return.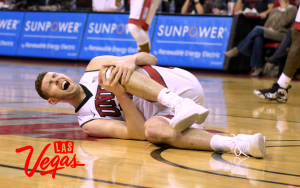 (PHOTO BY SAM MORRIS/LAS VEGAS NEWS BUREAU)
"You don't replace a Ben Carter," Simon said on Sunday night's RebZone coaches show. "He's little bit of our heartbeat, the pillar of our program in regards with what we stand for. And he's an impact player, one of the best players in the entire Mountain West. We run a lot of offense through him. He's such an important part of what we do. It's going to be a group effort (to replace him). We're going to have to other guys step up."
The Runnin' Rebels (13-9, 4-5) defeated the Lobos, 86-74, in the first meeting on Jan. 12 at the Thomas & Mack Center in Simon's first game as interim head coach after replacing Dave Rice. Carter played 30 minutes in that contest and finished with 10 points, seven rebounds, two blocks and two steals.
New Mexico, which is 9-2 at home this season, brings a three-game win streak into contest. Sophomore guard Elijah Brown, son of former Lakers and Cavs coach Mike Brown who ironically has been mentioned as a possible head coaching candidate for UNLV, had a game-high 24 points and grabbed 10 rebounds in the first meeting with the Rebels and leads the Lobos in scoring (20.3) while shooting 40.8 percent from 3-point range. He has scored 30 or more points in a game four times this season, including two of the last three games.
Related Articles
Share
About Author
(0) Readers Comments