Interim UNLV head coach Todd Simon knew there was no way to sugarcoat his team's performance in Wednesday night's 64-61 Mountain West victory over San Jose State at the Thomas & Mack Center.
"Welp, I guess a win is a win," Simon said after the Runnin' Rebels (14-11, 5-7 MW) rallied from a 15-point first half deficit to snap their three-game losing streak. "It was not pretty. We had to grind it out."
UNLV won despite shooting a season-low 29.4 percent from the floor and scoring just 39 points in the first 21 minutes. But trailing 50-39 with 9:42 to go, the Rebels turned things around with a 14-0 run, forcing nine turnovers in the process.
Senior guard Jerome Seagears, playing with a bruised right hand he said was "throbbing" afterwards, scored five of his 13 points in the final 81 seconds, including an impressive drive to the basket with 59.3 seconds remaining that put the Rebels ahead, 61-58, while freshman forward Derrick Jones Jr. was a monster on the boards, grabbing a career-high 18 rebounds.
The win moved UNLV into a tie for seventh place in the Mountain West with Wyoming, six games behind San Diego State (18-7, 11-1), which was upset by Fresno State, 58-57, on Wednesday night.
HOW IT HAPPENED: UNLV, playing without star 7-foot freshman forward Stephen Zimmerman Jr. (bruised knee) and suiting up just seven healthy scholarship players, jumped out to a 6-0 lead on back-to-back 3-pointers by Seagears and Ike Nwamu but struggled badly offensively after that. San Jose State went on a 23-5 run as the Rebels made just one of their next 12 shots, including nine misses in a row, en route to a 37-24 halftime lead.
The Spartans led by 11 points, 50-39, after a Brandon Clarke free throw with 9:42 to go, but UNLV then went on 14-0 run over the next 4½ minutes, using a trapping full-court press to force nine turnovers, and took a 53-51 lead on a pair of Patrick McCaw free throws.
The game see-sawed back-and-forth down the stretch until Seagears gave the Rebels the lead for good with a pair of free throws and then a driving layup to make it 63-59 with 59.3 seconds left. Jones hit a pair of free throws to put UNLV up by five, but freshman forward Cody Schwartz hit a 3-pointer to make it 63-61 with 6.6 seconds remaining. Seagears then hit one of two free throws with six seconds left and Schwartz missed a rushed 3-pointer at the buzzer that would have forced overtime.
WHO STOOD OUT: Jones scored 14 points, including two free throws in the final 45 seconds that proved to be the game-winning points, and grabbed a career-high 18 rebounds for the Rebels. McCaw scored a game-high 16 points, Nwamu finished with 15 points and seven rebounds and Seagears added 13 points and six steals.
QUOTES TO NOTE:
Simon on grinding out the ugly victory:
"Welp, I guess a win is a win. It was not exactly pretty. We had to grind it out."
Simon on what he said to his team at halftime after scoring just 24 points and getting outrebounded 27-19.
"It was probably 10 percent instruction and 90 percent inspirational to put it nicely. There's probably some paint being required on the walls. … I didn't like our energy. Sometimes you have to figure out different buttons to push to get guys riled up."
UP NEXT: The Rebels host Colorado State, a controversial 97-93 double overtime winner over Boise State, on Saturday night at 7 p.m. at the Thomas & Mack Center. The contest will be televised by ESPNU.
NOTABLE: UNLV shot a season-low 29.4 percent. The team's previous low was 33.3 percent in a 69-66 home loss to Fresno State on Dec. 30. … UNLV's six turnovers were a season low. … Seagears' six steals were twice as many as his previous career high accomplished four different times. … San Jose State finished with a 32-2 edge in bench points. … UNLV freshman walk-on Austin Starr from Foothill High saw his first extensive action of the season, grabbing two rebounds and going scoreless in 13 minutes on the floor.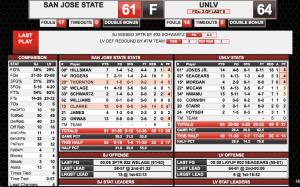 Related Articles
Share
About Author
(0) Readers Comments