Patrick McCaw picked a good time to end his shooting slump.
The 6-foot-6 sophomore guard, who was a combined 0-for-9 from 3-point range in his previous two games and had scored in double figures just twice in his previous 10 games, sank 5-of-6 3-pointers and tied his career-high with 25 points in helping lead UNLV to a 87-77 Mountain West victory over Boise State on Wednesday night at the Thomas & Mack Center.
McCaw, as usual, also exceled on the defensive end, finishing with five of the team's 13 steals. UNLV (13-8, 4-4) forced 18 turnovers and held the Broncos (15-6, 6-2) to just 42 percent shooting, including 6-of-18 from 3-point range.
"I think he's the best defensive player in the Mountain West Conference," UNLV interim head coach Todd Simon said.
McCaw did it all despite battling cramps most of the second half. After sinking his final trey with 24.8 seconds left to make it 87-75, he collapsed to the floor grabbing his right leg. He was helped to the bench a few moments later and attended the post-game press conference with ice bags strapped across both calves.
"He gutted through it and showed some toughness out there," Simon said. "He knocks down that Seth Curry 30-footer and I told him that was enough for the night."
HOW IT HAPPENED: Boise State led, 53-50, with 10:25 left after a free throw by freshman guard Paris Austin, but UNLV, which finished with 13 steals, took control with a 9-0 run capped by a McCaw steal and dunk. Boise State got as close as 66-65 on a rebound dunk by James Webb III with 4:55 left, but the Rebels then blew the game open with a 16-6 run with McCaw leading the way with seven points.
WHO STOOD OUT: McCaw tied his career high with a game-high 25 points, including 5-of-6 3-pointers, and had five steals and four assists. Freshman forward Stephen Zimmerman Jr. finished with 18 points and eight rebounds, freshman forward Derrick Jones Jr. scored 17 points and junior forward Ben Carter added 10 points and 11 rebounds for the Runnin' Rebels.
THE SKINNY: The Rebels improved to 4-1 under interim head coach Todd Simon with the only loss by two points, 65-63, at Nevada. A win on Saturday over old nemesis San Diego State could just give the team the confidence it needs to make a strong second half run in Mountain West play, not to mention the Mountain West Tourney in March at the Thomas & Mack.
QUOTES TO NOTE:
McCaw on collapsing to the court after sinking his final 3-pointer:
"I started catching cramps in the second half in both my calf muscles. It was kind of weird taking off but I'm all right."
McCaw on whether he happier with finishing with five steals or five 3-pointers:
"The five steals definitely. The five 3's – I was glad I was making them but the steals are just so much better."
Simon on bouncing back from Saturday's bitter 65-63 loss at Nevada to knock off the defending Mountain West co-champion Broncos:
"Every (win) is important but this was important to me because of the grit that we showed after two tough, physical days of practice … trying to instill what our identity is. And then to come into this game and have guys just flying on the floor and competing for every loose ball — guys just played until their bodies were breaking down."
UP NEXT: UNLV hosts Mountain West leader San Diego State (15-6, 8-0) on Saturday night at 5 p.m. at the Thomas & Mack Center. The contest will be televised by CBS Sports Network.
NOTABLE: The 18 turnovers were a season high for Boise State which entered the contest ranked 28th nationally in fewest turnovers per game with an average of 10.9 … Mikey Thompson, who starred at Canyon Springs High School, led the Broncos with 19 points. UNLV held a moment of silence before the game for Thompson's father, former Runnin' Rebel and Las Vegas High star Freddie "Machine Gun" Thompson, who died in April at the age of 55 of pancreatic cancer. … McCaw's 63 steals this season are two more than George Mason and Penn's entire team totals (61). He now ranks third nationally in steals per game (2.90). … Carter's double-double was the second of his career. … UNLV shot 63 percent (17-of-27) at the free throw line but made 12 of its final 13 attempts. … UNLV shot 57 percent in the second half while outscoring the Broncos 55-37.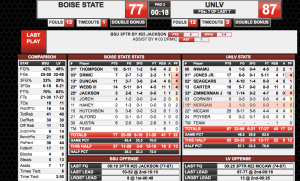 Related Articles
Share
About Author
(0) Readers Comments