SAN JOSE – It could be Thursday night. It might be Saturday afternoon. It possibly may not be for another week or so.
But barring a minor miracle, UNLV freshman star Anthony Bennett will have played his final game in a Runnin' Rebel uniform.
The 6-foot-8, 240-pound manchild, generally regarded no worse than a top five lottery pick in June if/when he declares for the NBA Draft, said all the right things Wednesday when the topic of turning pro came up. But don't hold your breath Rebel fans.
(STORY CONTINUES BELOW)
Bennett, no doubt trying to keep any distractions for the Rebels to a minimum before Thursday night's NCAA Tourney opener with Cal here, did leave the door slightly open about a return to UNLV. But he also admitted that if he does leave as expected it would be to take care of his family financially.
"It's a hard decision," Bennett, who is averaging a team-best 15.9 points and 8.1 rebounds, said. "I like the city of Vegas. I like the fans. This coaching staff is great. My teammates … everybody has been great to me. I'm just going to take that into consideration when I make my decision."
Still if Bennett is a top five pick as many project, he'd be passing on somewhere in the neighborhood of between three to five million dollars depending on the pick – not counting endorsements – to play another year at UNLV.
Think that's worth passing up for another trip to Laramie?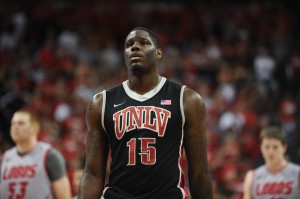 Bennett said he will sit down with his mother Edith at the end of the season and make his decision.
Cal coach Mike Montgomery, a two-time National Coach of the Year who coached the Golden State Warriors for three years in the NBA, was asked about Bennett's NBA future at Wednesday's NCAA press conferences.
"He's a classic power forward," Montgomery said. "I think the first thing you look at when you're talking NBA is body. It's silly, but that's what the league has gotten to. They look at your body. Do you have an NBA body, long arms, high hips, weight, strength, athletic ability? He's got all that.
"He's got a prototype four-man body. And he's skilled. He can shoot the ball. So you're talking about a big guy that can go in and match up and bang with big people in that league defensively and maybe on the glass, but yet he can step away and shoot the ball. His 3-point percentage is the best on that team as I recall. He's a guy 6-8 with that physical prowess, that can step away and shoot the ball from deep. He's got great touch inside. So there's not much not to like about him."
The bigger question is Bennett mentally ready for the rigors of the NBA?
"After one year in college you don't know the maturity level and what their work ethic is going to be," Montgomery said. "That's where they get in trouble a lot when they go after these young kids, because they're not proven, they don't know the answer to those. But from the standpoint of looking at him on the surface, he's got it all."
"It's still a big decision for me," Bennett said. "I'm just trying not to think about it right now."
Best case scenario for Rebel fans is that Bennett doesn't have time to sit down until AFTER the Final Four to figure things out. That would be a win-win for everybody.
Stay tuned.
Related Articles
Share
About Author
(0) Readers Comments