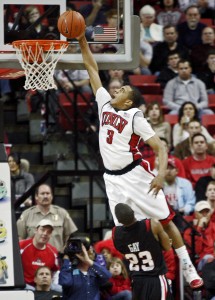 The last time it happened, Anthony Marshall was a few weeks shy of his ninth birthday.
Bill Bayno – remember him? – was the head coach. The Mountain West was in the midst of its first year as a conference.
The year was 2000 and UNLV shared the regular season Mountain West basketball title with the Rick Majerus-coached Utah Utes.
The Runnin' Rebels have been to the NCAA Tournament four times since then but haven't finished any higher than second place (twice) in the MWC.
Winning the regular season Mountain West Conference championship for the first time in over a decade is a big goal for the No. 12 ranked UNLV (16-2) which begins that quest Saturday afternoon at 1 p.m. at defending co-champion San Diego State (NBC Sports Network).
"It means a lot," Marshall said. "Coach (Dave) Rice, on the first day he got here, we had a team meeting. One of the first things he said was that our goal is to win a regular season conference championship. … That's what we're looking to accomplish."
"It's always in the back of our minds of course," forward Chace Stanback added. "But ultimately we have to take it one game at a time and continue to get better every day in practice."
UNLV could take a big step toward a possible MWC title with a road win over a San Diego State squad that has dominated them in recent years. Steve Fisher's 22nd-ranked Aztecs (14-2) have won eight of the last nine meetings, including the last five in a row.
"This game is a big game for us," Marshall said. "People are looking at it as a revenge game but it is much more than that. … Going on the road, the first conference game against a ranked opponent (and) it's going to be a hostile environment."
This will the first meeting between the two schools when both are ranked in the Associated Press Top 25. The Aztecs, led by 18 points and 8 rebounds by future NBA Lottery pick Kawhi Leonard, won the last meeting, 74-72, in the semifinals of the Mountain West Conference Tournament.
"Almost without fail, every game with two minutes to go could go either way, and we've won all the close ones," Fisher said.
That includes a 55-49 decision last year at Viejas Arena. UNLV's last win in San Diego was in 2008, 72-69.
— Steve Guiremand
Related Articles
Share
About Author
(0) Readers Comments