In a season that has included more than its share of frustrating losses, none could top UNLV's 66-65 setback at Colorado State on Jan. 6.
Forward Ben Carter broke down and sobbed on a bench immediately after exiting the court. Normally mild-mannered Rebels head coach Dave Rice could be heard outside the locker room in Moby Arena loudly shouting expletives at his squad after it crumbled down the stretch, blowing a five-point lead in the final 47 seconds.
Four days later, after another blowing another big lead in a 59-57 loss at Wyoming, Rice was fired.
So UNLV's convincing 87-80 win over the Rams (14-11, 6-6) on Saturday night at the Thomas & Mack Center was extra sweet, even though interim coach Todd Simon kind of danced around the topic when asked about it.
"It was sweet for us in terms of us just getting the win here," Simon, who improved to 6-4 as head coach, said. "And the matter with which they were able to control the game for 40 minutes."
UNLV (15-11, 6-7) never trailed in the contest and led by as many as 15 points with about seven minutes to go. The Runnin' Rebels did it the old fashioned way, rolling up their sleeves and forcing 21 turnovers with an at times stifling defense while also pounding the ball inside for 38 points, many on tough, contested drives to the bucket.
HOW IT HAPPENED: UNLV, playing its second straight game without star 7-foot freshman forward Stephen Zimmerman Jr. (bruised knee), led by as many eight points in the first half and never trailed while taking a 36-32 halftime lead. Sophomore forward Dwayne Morgan and freshman guard Jalen Poyser each scored eight points and sophomore guard Patrick McCaw had seven points and six rebounds as the Rebels had success with drives to the basket, going into the locker room with a 18-6 edge in points in the paint.
McCaw scored eight straight points, including a pair of 3-pointers, as UNLV extended its lead to 66-52 with 8:47 remaining. The Rams, who shot 45 percent but were just 7-of-24 from 3-point range, never got any closer than seven points the rest of the way.
WHO STOOD OUT: McCaw scored a game-high 20 points, grabbed eight rebounds and had four steals to lead UNLV. Poyser finished with a career-high 19 points and six assists, senior guard Ike Nwamu added 14 points and Morgan ended up with 13 points and eight rebounds.
Senior guard Joe De Ciman led Colorado State (14-11, 6-6), which had a two-game win streak snappe, with 16 points. Senior guard Antwan Scott and junior guard John Gillon each finished with 13 points, junior forward Emmanuel Omogbo finished with 12 points and 10 rebounds and Tiel Daniels added 12 points and eight rebounds for the Rams.
QUOTES TO NOTE:
Simon on his team's gritty performance:
"Really proud of the guys. They came out and executed and they were engaged defensively for forty full minutes."
Poyser on avenging the team's heart-breaking 66-65 loss at Colorado State on Jan. 6 that was one of the final straws in the firing of head coach Dave Rice.
"Every loss hurts when you are a competitor so it just added fuel to your fire and that's what we did when we came out here."
Colorado State coach Larry Eustachy on his team's performance:
"I was disappointed with the execution. We tried and we didn't execute very well. You have to give UNLV a lot of credit. They're long, they're good, they're talented. You can't turn it over against a NBA player like McCaw and not pay the price. He very seldom makes poor decisions. The game play going in was right – we just didn't execute it."
UP NEXT: UNLV travels to Air Force on Tuesday night for a game that will be televised by CBS Sports Network at 6:30 p.m. PT. The Rebels then return home to host Nevada on Saturday at 7 p.m.
NOTABLE: UNLV won despite the fact the 6-foot-8 Carter (16 points and 12 rebounds), out for the season with a knee injury, and Zimmerman (nine points, eight boards), who missed his second straight game with a bruised knee, accounted for a combined 25 points and 20 rebounds in the first meeting in Fort Collins. … Colorado State's 21 turnovers tied a season high. … UNLV finished with a 22-10 edge in points off turnovers, a complete flip of the first game when CSU had a 22-10 edge in that category and the Rebels had 18 turnovers. … Morgan, who was scoreless and had three rebounds in the first meeting, finished just one point off his season high with 13 points. … The Rebels shot 45.3 percent from the floor and 7-of-22 from 3-point range, but were 5-of-11 beyond the arc in the second half.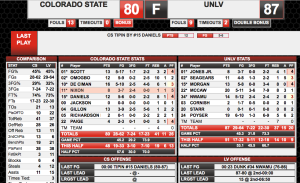 DERRICK JONES JR. DUNK PHOTO BY TJ ERVIN
Related Articles
Share
About Author
(0) Readers Comments