If there ever was any doubt about the influence Jerry Tarkanian had on the sport of college basketball or the city of Las Vegas, it was certainly erased Sunday afternoon at the Thomas & Mack Center.
About 4,000 people gathered Sunday afternoon to honor the memory of the legendary Hall of Fame coach, who passed away at the age of 84 on Feb. 11, with a stirring two-hour memorial that ran the gamut of human emotion and covered his coaching career from the start at Riverside City College through the final stop at Fresno State in 2002.
Ex-UNLV quarterback and current ESPN personality Kenny Mayne emceed the event that included video tributes from former coaching colleagues Mike Krzyzewski (Duke), John Calipari (Kentucky), Tom Thibodeau (Chicago Bulls) and Bob Huggins (West Virginia) as well as a humorous video montage of Tark's TV appearances and acting forays.
"Jerry is probably coaching that pressure man-to-man defense in heaven now," Krzyzewski said. "I wonder if he took that towel with him."
Many of Tarkanian's old players spoke starting with ex-Runnin' Rebel star Richard Box who performed the invocation.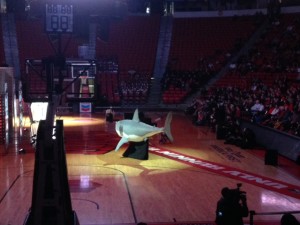 Former players from each era spent time on several couches placed on Jerry Tarkanian Court giving anecdotes from their playing days under Tark the Shark beginning with Sam Knight, who was the star player on a pair Riverside City College squads that won California state junior college titles in the early 60's, as well as Long Beach State star Ed Ratleff, a two-time All-American and U.S. Olympian who many believe was the best player to ever play under Tarkanian.
The UNLV segment featured Jackie Robinson, whose older brother Sam starred for Tarkanian at both Pasadena City College and Long Beach State and also spoke, Reggie Theus, Ricky Sobers, Moses Scurry, current Canyon Springs assistant Eldridge "El Hud" Hudson and Leon Symanski, a member of the 1987 Final Four team who is now an attorney in Las Vegas.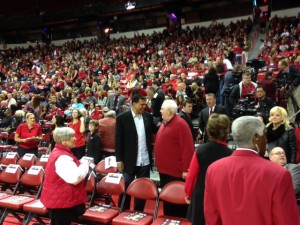 Former Fresno State guard Chris Herren gave perhaps the most powerful speech, describing how Tarkanian stood by and helped him during his well-chronicled battles with substance abuse.
"I am not a national champion and my career can not match up with the legends that played here," Herren said gesturing to the retired jerseys hanging in the rafters. "But I can say this with pride: we all share one common bond, that we played for the greatest coach to ever coach this game."
UNLV coach Dave Rice, athletic director Tina Kunzer-Murphy and president Len Jessup also gave short speeches with Rice turning over a proclamation from state governor Brian Sandoval to the Tarkanian family that proclaimed Sunday as "Jerry Tarkanian Day" in Nevada.
The podium at center court had the 1990 national championship trophy that UNLV won under Tarkanian on one side and the great white shark replica that used to hang from the rafters in the "Shark Tank" during the Runnin' Rebel glory days on the other. Tark's famous "ghost chair" was also there along with his customary well-folded towels to chomp on.
Afterward, the current Runnin' Rebel squad, which like Rice received loud ovations from the crowd, posed for pictures by the shark.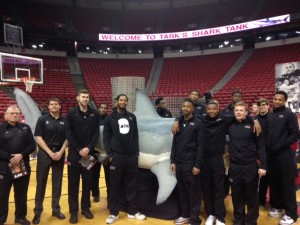 The ceremony ended with the singing of "My Way" by Frank Sinatra impersonator Bob Anderson from The Palazzo that was spot on and followed by the customary pregame fireworks intro for UNLV home games that revolutionary for its time but has now been copied by many NBA and college teams.
Below is a link video of the ceremony courtesy of Fox5 Vegas which broadcasts the weekly RebZone coaches show.
Related Articles
Share
About Author
(0) Readers Comments