UNLV football had arguably one of its largest crowds of the season on Thursday afternoon, and it wasn't even for a game.
It was standing room only in the Ballroom at the Stan Fulton Building on the UNLV campus as the school officially introduced Tony Sanchez as the 11th football coach in school history.
Just the third high school coach ever to make the huge jump directly to Division I football, the 40-year-old Sanchez, who piloted Bishop Gorman to a 15-0 record and mythical national championship this season, was greeted warmly by the turnout which included a number of former Rebel football players including George Maloof, minority owner of The Palms Casino
Sanchez was hired over veteran college coaches like June Jones and Ed Orgeron, who got a push from former Rebel head coach John Robinson, as well as former New York Giants and Las Vegas Locomotives coach Jim Fassel. He inherits a team that finished 2-11 and has won just two games eight times in the past 11 seasons.
"As a Las Vegan, we aren't afraid to take a very bold and unconventional approach in responding to challenges," UNLV athletic director Tina Kunzer-Murphy said. "We aren't afraid to challenge that status quo, and that's what makes this university and this city so great. It's the courage to think differently. It's the vision to be innovative, and the confidence to build our own identity.
"For the past few weeks we've thought about how to change the culture of UNLV. I can tell you today we're going to start right here, right now with our new head coach Tony Sanchez."
"He's the right guy at the right time to move this UNLV football program in the right direction," outgoing UNLV President Donald Snyder added.
Sanchez's four-year contract, which has a base salary of $250,000 but totals $500,000 per year with media and public appearance fees added on, still must be approved by the Nevada Board of Regents on Tuesday but that is considered a formality.
Sanchez, who compiled a 85-5 record while winning six consecutive state titles at Gorman, was happy that Kunzer-Murphy took what many outsiders view as a huge gamble.
"I know it was a bold statement when I was chosen for this position," the former wide receiver from New Mexico State said. "I couldn't be more excited about the opportunity, couldn't be more energetic and more driven than to see UNLV football moving in a positive direction."
Sanchez said he was in the process of putting together a staff of mostly veteran college coaches. He also promised to make recruiting Las Vegas high schools a priority, something his predecessor, Bobby Hauck, failed miserably at while going a dismal 15-49 over five seasons.
"I think you'll get excited about the staff we bring in here," Sanchez said. "I think it's going to shock a lot of people. … We're going to recruit this community. We're going to get to know this community, and they're going to get to know us. We can't do it alone, but if we get this entire community – past, present and future – all on the same page and driving in the right direction, I know we're going to win here."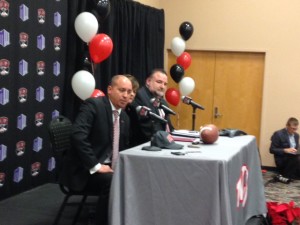 There were numerous local media reports — some since retracted — that UFC Chairman and CEO Lorenzo Fertitta and his family, who have been big supporters of both Bishop Gorman and UNLV athletics over the years, would donate $30 million to improve football facilities if Sanchez was hired as part of a package deal. Kunzer-Murphy said that was not the case.
"I'm disappointed in how it's been perceived and projected in the media, if I can say that," she said. "It's been inconsiderate to the family, and inconsiderate to us."
"I have never talked with the Fertittas about supporting the football program in the context of these conversations," Snyder added. "I have a lot of history with them over the years, but not about support of the football program."
Sanchez stressed it will take more than a large donation from just one booster for the program to become successful.
"Not just one family can make a difference," Sanchez said. "It's people buying season tickets and people helping out student athletes and people coming together to help our program move forward. I can't do it alone, I'm going to need help from the community. If we can wrap our arms around this we can get it done."
Related Articles
Share
About Author
(0) Readers Comments