Like father, like daughter.
Tevita Ofahengaue starred in football at BYU, made headlines as the last player picked in the 2001 NFL Draft to earn the title of "Mr. Irrelevent" and is soon to the object of his reality TV show.
This weekend though he is busy watching his talented 9-year-old daughter, Cami, play running back on a very talented 10-and-under BOYS team from Hawaii – the Hawaii Sports Academy Seahawks — compete in the 2014 WASUP National Spring Tournament at Frias Park.
The teams play five-on-five on 30 by 50-yard fields and it is a big thing for youth football teams. Thirteen teams from Hawaii alone traveled to Las Vegas just to compete in the 10-and-under division. There are also tournaments for 13-and-under and 8-and-under groups.
Cami Ofahengaue, the only girl playing in the 10-and-under tournament, turned some heads with her quick moves and defense in practice drills on Friday.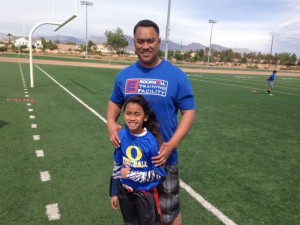 "She has some good jukes," Seahawks coach Gary Graham, who also is defensive coordinator for one of Hawaii's top high school programs, Farrington High, said with a smile. "She broke some ankles out there."
Tevita Ofahengaue has coached some of the nation's top 7-on-7 youth teams in recent years. Past performers on his Team 808 squad have included running back Joe Mixon (Oklahoma), defensive back Juju Smith (USC), Bishop Gorman tight end Alize Jones (UCLA commit), running back Nate Starks (UCLA), offensive guard Damien Mama (USC) and Bishop Gorman safety Nicco Fertitta (Notre Dame commit).
Graham's son, Kekahi Graham, an athletic left-handed quarterback, already has grabbed Tevita's attention. He already compares him favorably to another quarterback who played for him and didn't receive much college attention before his starring his senior year at Honolulu's Saint Louis High School – current Oregon star Marcus Mariotta.
The single-elimination tournament concludes on Sunday.
Related Articles
Share
About Author
(0) Readers Comments