It's pretty rare for Notre Dame to venture west to sign a football prospect these days. It's even more unusual for the Fighting Irish to sign two players from the same high school out west.
But that was the case Wednesday when the Irish signed two of the key players from Bishop Gorman's national championship team, safety Nicco Fertitta and tight end Alize Jones.
The duo were part of a group of 12 athletes, including eight football players, at the school who took part in a national letter of intent signing ceremony.
"Not in a million years, when you're fortunate to have a child, do you even think about that's a possibility, that he would achieve something at this level," Fertitta's father, UFC Chairman and CEO Lorenzo Fertitta, said of his son signing with a prestigious football program like Notre Dame. "It's really special because he really truly does love football. He works extremely hard and he's always grown up loving Notre Dame."
(STORY CONTINUES BELOW)
The 5-foot-10, 180-pound Fertitta, rated the nation's 266th best prospect by longtime national talent scout Tom Lemming of the CBS Sports Network's Lemming Report, was the defensive leader on a Gaels squad that went 15-0 and claimed its sixth straight state title. One of the nation's hardest hitting defenders, he played in the team's 70-28 state title win over Reed despite breaking his hand a week earlier. The painful injury later required surgery that included the insertion of pins and a steel plate to help heal the bones.
A pleasant surprise for Fertitta was when Jones, rated the No. 1 tight end prospect in the nation by Lemming, decided to join him after taking a mid-December recruiting visit to South Bend despite earlier committing to UCLA.
"Alize's my best friend so it looks I've got four more years and a lifetime with my best friend," Fertitta said.
"I just wanted to challenge myself spiritually, academically and athletically," the 6-foot-5, 220-pound Jones said. "I think (Notre Dame) is the best school for me to do that. Not taking anything away from UCLA but I feel like Notre Dame is the best chance for me to perform at my highest on the field and off the field."
It wasn't a total loss for UCLA coach Jim Mora at Gorman. Wide receiver Cordell Broadus, son of rap star and outspoken USC fan Snoop Dogg, signed with the Bruins over the Trojans, Arizona State and LSU.
Other Gael football players who signed Wednesday included quarterback Danny Hong (Columbia), linebacker Nela Otukolo (Fresno State over UNLV and Boise State), lineman Jackson Perry (Dartmouth), long snapper Jordan Ober (Nebraska) and lineman Ethan Palalei (Army).
Four other athletes also signed letters of intent: Austin Nobis (track, Duke), Dacia Persky (lacrosse, Wellesley College), Addison Birotte (soccer, Radford) and Corynne McEachern (soccer, Aurora University).
Fertitta and Jones will join another Bishop Gorman product, starting left tackle highly rated NFL prospect Ronnie Stanley, next fall in South Bend.
"I think it's incredibly special," Lorenzo Fertitta said of having three Gaels playing for the Fighting Irish. "You can also see there's a bit of a cultural connection between the University of Notre Dame, what it instills, and what Bishop Gorman is all about and what it instills – obviously a great education, the Catholic faith as well as the highest level of athletics. There's a great connection there and hopefully in the future there will be more opportunities for kids, in Gorman and in Las Vegas, to attend a place like Notre Dame."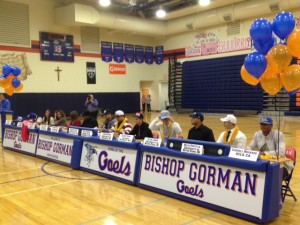 Related Articles
Share
About Author
(0) Readers Comments