By Barry Wong
MyLVsports.com
Prior to Centennial's road game at Canyon Springs on Thursday night, Centennial head coach Todd Allen said his kids needed this type of game, meaning a tough test against another top-five team in the valley.
The Bulldogs have faced tough tests all season, with games against Coronado, Mojave, Clark and a Wastach Academy (Utah) team that will face Findlay Prep this season.
"It finds out what we're made of," Allen said. "We've got competitors on our team, and we want to challenge them because our final goal is a state championship."
After the Bulldogs 70-55 victory, Allen added that his team needed a win in a game like Thursday's to help stabilize the team's early start to the season.
"We've been kind of going up and down," he said. "It's a good game for us to get back on track."
A balanced scoring attack from Centennial's big three led the way. Sophomore Troy Brown and seniors Garett Scheer and Darrian Traylor all finished with 17 points.
The game started with a frantic, back-and-forth pace, with both teams looking to push the basketball. The Pioneers led by one after the first quarter, but the Bulldogs used a 16-6 second to take a 31-22 lead at the break.
In the third, Canyon Springs would cut the lead down to four, but Centennial pulled away after that to hang on to the win that improves the team to 6-2.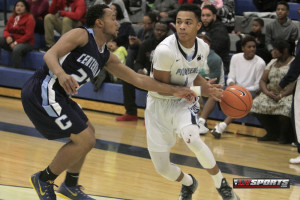 Senior Jordan Davis led Canyon Springs with 17 points, while senior D'Quan Crockett added 14.
Centennial will have a quick turnaround, hosting Durango on Friday night, while Canyon Springs (5-1) travels to Foothill for a Monday night showdown.
Related Articles
Share
About Author
(0) Readers Comments