Bishop Gorman head coach Tony Sanchez was not very pleased with his team's focus or intensity at the start of his team's tougher-than-expected 31-18 win at Legacy last week. A lot of emphasis was put on getting out of the gate fast in Friday night's Homecoming contest with undefeated Cimarron-Memorial.
So what happened? The Gaels started the game with an ugly three-and-out that featured a dropped pass and another one that was poorly thrown by starting quarterback Randall Cunningham II.
But that was about all that went wrong for Bishop Gorman (6-2, 2-0) which simply dominated on both sides of the ball while building up a 35-0 halftime lead and cruising home with a 56-7 Southwest League victory over the Spartans (5-1, 1-1) at Fertitta Field.
The Gaels rushed for 403 yards en route to 519 total yards. Gorman had 291 of those yards before intermission when it also held Cimarron to just 23 total yards on 30 plays, including minus-3 yards rushing.
(STORY CONTINUES BELOW)
"It was good to get everybody into the game," Sanchez said. "The defense played good again. The offense, we were able to work on a little of the passing stuff. We started off a little shaky but Randall completed some nice balls and that was good to see. The offensive line – we haven't had trouble running on anybody, I don't care if its (No. 1 nationally ranked) Booker T. (Washington) or whoever. We know that we can run the ball with the best of them. We've just got to continue to develop the passing game and be a double threat. And the defense continues to play great."
The defensive line, led by tackles Zack Singer and Noah Tialavea, was particularly stout, holding Spartan standout running back Michael Barnson to just 15 yards on 13 carries in the first 24 minutes. Barnson, who scored on a 1-yard touchdown run late in the third quarter against the Gorman reserves, finished with a game-high 130 yards on 29 carries.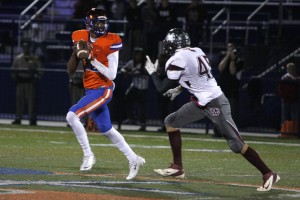 Cunningham, who gave way to junior backup Danny Hong, at halftime, completed 5-of-9 passes for 66 yards, including a 12-yard TD pass to Terrance Chambers that made it 35-0 with 4:24 left in the second quarter. He also rushed 58 yards on seven carries, including several now-you-see-me, now-you-don't scrambles against the Spartan pass rush.
Among the other standouts for the Gaels:
* Explosive junior running back Russell Booze rushed for a team-high 109 yards and two touchdowns on only eight carries, including a 71-yard touchdown run.
* Senior running back Daniel Stewart scored the first two touchdowns of the game on runs of 1 and 8 yards and had 33 yards on 6 carries.
* Sophomore running back Jonathan Shumaker added 73 yards on 3 carries, including a 60-yard touchdown run to make it 28-0.
* Junior halfback Jaylen Carroll added a 70-yard TD run and the strong-armed Hong, who completed 4-of-8 passes for 50 yards, showed his mobility with a 14-yard touchdown jaunt.
* TE/WR Alize Jones, one of the nation's top junior prospects, had a game-high 4 receptions for 76 yards in just a half of action.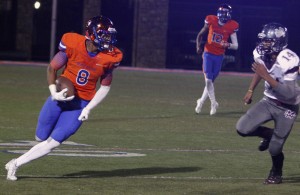 * The 6-foot-3, 292-pound Singer, besides anchoring a dominating effort by the Gael offensive line at center, also had two tackles for 14 yards in loss, including a sack.
* The secondary, led by junior safety Nicco Fertitta (1 highlight-reel pass breakup, a 11-yard tackle for loss on a reverse and another monster hit … see video above) and junior corner Jabari Butler, who had a textbook interception on a long pass down the left sideline, held Cimarron quarterback Derek Morefield to just 6-of-19 passing for 79 yards, including just 3-of-11 for 26 yards in the first half.
The Gaels next travel to Bonanza (3-3, 0-2) on Thursday night.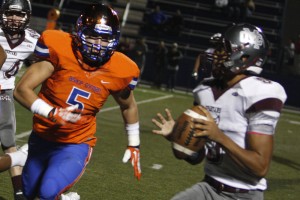 Related Articles
Share
About Author
(0) Readers Comments