It was late in the third quarter and hot-shooting Palo Verde had cut Bishop Gorman's lead to just three points in Friday night's NIAA Division I state title game at the Orleans Arena.
Duke-bound 6-foot-11 center Chase Jeter was asked if he was nervous?
"For a minute," he said with a smile. "I can't lie. I'm only human."
Jeter helped squelch those nerves with back-to-back rebound baskets to spark a 17-2 run by the Gaels (27-6) who pulled away for a 74-54 victory and their fourth consecutive state title.
Jeter finished with 21 points and 17 rebounds while senior guard Nick Blair added 21 points and five steals and 7-foot senior center Stephen Zimmerman finished with seven points, eight rebounds, five assists and four blocks in his school-record 114th victory as a Gael.
"It's really special, especially with this group," Bishop Gorman coach Grant Rice said. "It's been a group that's come through and gotten a lot of accolades. With that comes a lot of pressure. They handled it really well."
(STORY CONTINUES BELOW)
"The way we pulled through and the way we played as a team was special," Jeter, who hopped a plane to the North Carolina a few hours later to catch Saturday's Syracuse-Duke game at Cameron Indoor Stadium, said. "I'm just glad we won the state championship."
Both Jeter and Zimmerman have two prestigious national all-star games left to play in together: the McDonald's All-American Game on April 1 in Chicago and the Nike Hoop Summit on April 11 in Portland. But Friday night they accomplished their No. 1 goal by being apart of only the second school in state history to win four consecutive state titles joining the Valley High squads of the early 80's.
"Just to be able to come back to Gorman 10 years from now and see those banners on the wall and know that I was apart of that, apart of something that special with a special group of guys just makes you appreciate everything that has happened in the four years," Jeter said.
"It's amazing," added Zimmerman. "I'm real blessed and I'm happy.
Zimmerman was asked if he also was a little relieved?
"Right now I am but I still have to make my (college) decision," he replied.
Oh, that.
Zimmerman took official recruiting visits to Kentucky, Kansas, Arizona, UCLA and UNLV. Runnin' Rebel head coach Dave Rice and assistant Ryan Miller were both at the game.
"I've been holding it off until the end of the season," Zimmerman said. "I've definitely got to step it up and make my decision."
Before the McDonald's game? After it?
"Honestly, as soon as I find out," Zimmerman said. "It's one of those things. It's whenever I decide."
Another Gael who will be busy making a college decision is the explosive 6-foot-5 Blair who played arguably the best game of his career.
"It's definitely right up there if not No. 1," he said. "Especially because of the stage it was on. It's definitely one of the best games I've ever had."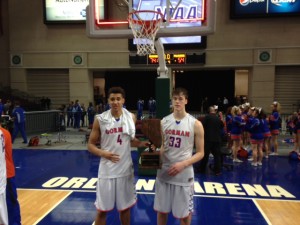 Ja Morgan scored 15 of his team-high 17 points in the second half, including three 3-pointers, and Grant Dressler (12) and Kyler Hack (10) also scored in double figures for Palo Verde (21-10), which upset teams like Centennial, Valley and Canyon Springs to reach the final.
"I'm so proud of the kids," coach Paul Sanchez said. "They battled. They didn't back down. They weren't intimidated. It's a good group of kids."
CENTENNIAL 65, BISHOP GORMAN 52: Justice Ethridge scored 19 points and Jayden Eggleston finished with 10 points and 14 rebounds as the Bulldogs (31-2) claimed their seventh state girls title.
Raychel Stanley led Bishop Gorman (24-6) with 15 points and eight rebounds and Madison Washington added 11 points and 15 rebounds. The Gaels finished with 23 turnovers.
Related Articles
Share
About Author
(0) Readers Comments