Moments after his team put the finishing touches on a 56-6 blowout win of Northwest League champion and previously undefeated Arbor View, Bishop Gorman coach Tony Sanchez gathered his squad together for some good news.
"We get to practice on Thanksgiving," Sanchez said to a loud cheer.
Bishop Gorman (13-0), the nation's No. 1 ranked team, will face Liberty (10-2), which won the Sunrise Region title with a 28-16 victory over Basic, next Saturday at 1 p.m. at Rancho High School in the state semifinals.
"It's awesome," Sanchez said of working on Thanksgiving. "Just to be able to get up that morning and show up (and practice). There have been a couple of them in the past where I didn't get to and it was always a bummer. I just really proud of the kids."
Sticking with the Thanksgiving theme, one could say the Gaels pretty much knocked the stuffing out of a very good Arbor View team.
(STORY CONTINUES BELOW)
On Gorman's first offensive play, quarterback Tate Martell caught Arbor View in a corner blitz and hit wide open tight end Alize Jones for a 69-yard touchdown pass.
"We came out and we were ready because it's a big rivalry game, but yeah, it did set the tone," Jones said.
"When you go out and score on the first play like that, you know it's going to be a good night," Martell said.
Martell and Jones hooked up again a few minutes later on a 20-yard TD. The Gaels made it 21-0 a few minutes after that when defensive end Ryan Garrett scooped up a fumble and rambled 39 yards for a score. And Martell hit Jones again for a 22-yard touchdown to make it 28-0.
So much for the first quarter scoring.
Martell, who completed 8-of-12 passes for 235 yards and four TDs in a little over a quarter of action, also threw a 32-yard touchdown pass to Austin Arnold. Backup quarterback Danny Hong connected with Cordell Broadus for a 10-yard TD just before halftime to make it 49-0.
The Gaels also got rushing touchdowns of 20 yards from Russell Booze and 27 yards from sophomore Biaggio Walsh.
"They came out and tried to play Cover zero," Sanchez said. "And we have some really talented guys on the edge and did a great job of taking advantage of it. The first play of the game I think they kind of had a blown coverage, the corner kind of shut himself in, and it was kind of a gimme."
Truth be known, it probably didn't matter what defense the Aggies played. Bishop Gorman is simply in a different class this year.
Arbor View did get a little satisfaction when running back Herman Gray powered in from 10-yards out with 9:22 to go to break up the shutout against Gorman's reserves.
"Our defense came out and they were lights out early, and then we had some explosive plays," Sanchez said.
Liberty 28, Basic 16: Knotted at 7-7 entering the second half, Patriots senior running back Spencer Wilson took it upon himself to bring Liberty their fifth consecutive Sunrise regional championship.
After a 70-yard opening quarter kickoff return from dynamic sophomore receiver Ethan Dedeaux was called back, Wilson burst past the Wolves secondary for a 90-yard score. Moments later, Wilson would break out for another touchdown run of 27-yards to put the Patriots ahead comfortably, 21-7.
Wilson, would finish the game with 207 yards and two touchdowns on 13 carries while freshman quarterback Kenyon Oblad added 113 yards and a touchdown on 11-of-19 passing.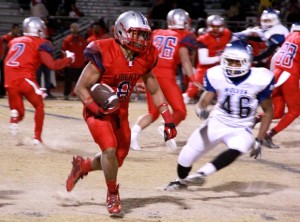 Liberty photo and story by Robert Vendettoli.
Related Articles
Share
About Author
(0) Readers Comments