When it comes to frustrating ways to lose a game, Bishop Gorman may have set the standard Friday night at the Orleans Arena.
The Gaels (8-3) lost to Oklahoma power Putnam City West, 52-50, in overtime in the semifinals of the Platinum Division of the Tarkanian Classic when sophomore guard Nick Robinson's layup barely beat the buzzer.
Robinson's game-winner came after Gorman, which converted four turnovers into just three points in the final 91 seconds, failed to capitalize on a Richie Thornton steal near mid-court with about 12 seconds to go and the score tied at 50-50.
Thornton deflected the ball to guard Nick Blair who drove to the basket but missed an off-balanced shot with five seconds left. Forward Dedrian Parmer then got the rebound for Patriots and passed it out to guard Tyson Jolly.
Jolly, who finished with a game-high 24 points, appeared at first that he might pull up and heave a half-court shot. Instead he rifled a pass to Robinson racing in from the right wing, and the 6-foot-3 sophomore barely beat the horn for the winning basket.
(CHECK OUT VIDEO HIGHLIGHTS OF PLAY BELOW)
"It was a tough way to lose the game," Bishop Gorman coach Grant Rice said. "So many ups and downs in those last few minutes. They turn the ball over, we turn the ball over. Then we get another steal and didn't get what we needed to in that last (five) seconds. You think you at least go into overtime if you miss that one … and for them to go the length of the court, it's a tough way to go down."
Blair finished with a team-high 14 points for the Gaels while Stephen Zimmerman and Ugo Amadi added 13 points each.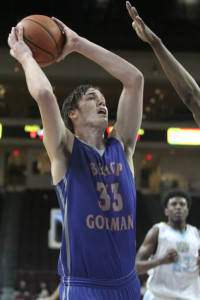 Putnam City West (7-0), ranked No. 4 in the nation in the MaxPreps Freeman Rankings this week, will face sourthern California power Redondo Union in the Platinum title game Saturday at 5 p.m. at Bishop Gorman. The Gaels, meanwhile, will face Corona (Calif.) Centennial at 3:40 in the third place game.
"The true test is not tonight but how we respond tomorrow," Rice said. "We play another Top 25 ranked team in Corona Centennial tomorrow. It's obviously going to be a tough one."
It was a much better outcome for southern Nevada's other heavyweight team, Findlay Prep.
The Pilots (12-0) overcame a sluggish start to roll past National Prep Academy from Stockridge, Ga., 79-51.
Junior swingman Justin Jackson, a verbal commit to UNLV, led the way with a game-high 27 points and several dazzling passes while Arizona-bound shooting guard Allonzo Trier finished with 17 points and senior forward Horace Spencer III added 15 points.
Related Articles
Share
About Author
(0) Readers Comments