After his team put the finishing touches on a perfect 10-0 regular season with a Southwest League-clinching 49-0 win over rival Palo Verde, Bishop Gorman coach Tony Sanchez gathered his squad around for their postgame prayer and to discuss the victory.
Then he pulled a big surprise.
"I'm going to do something that I've never done in 11 years as a coach and that's give out a game ball," Sanchez said.
The recipient? Senior tailback Russell Booze.
The 5-foot-10, 178-pound speedster had what has become a fairly routine game for him over the last two seasons, rushing for 187 yards and three touchdowns on 13 carries as the Gaels extended their win streak over Nevada high school teams to 62 in a row.
(STORY CONTINUES BELOW)
"I've just watched Russell Booze grow," Sanchez said when asked what went into his decision. "I tell you what: I've coached a lot of Division I players, and he's one of them. He's unbelievable what he's accomplished this year. He's head and heals above everybody. No matter who we've played, whether it's St. John Bosco or Corona Centennial, it doesn't make a difference, he's the best guy on the field in the backfield."
Booze said he was "humbled" and called it "a blessing" to be singled out by Sanchez for the game ball.
"After all the hard-working players that have come through this program, this is just an honor," Booze said. "I was surprised honestly. He's never done it before, and there have been so many great running backs, from DeMarco Murray to Shaquille Powell, that have come through this program. I'd like to thank Coach Sanchez for this."
Booze surprisingly said he hasn't received any FBS scholarship offers yet but has gotten some interest from Purdue. UNLV head coach Bobby Hauck attended the game along with his brother, defensive coordinator Tim Hauck, and offensive line coach Chad Germer. The Rebels offered Gorman center Travis French earlier in the week.
Quarterback Tate Martell completed 9-of-13 passes for 190 yards, including touchdown passes of 81 yards to Tyjon Lindsey and 9-yards to tight end Alize Jones, while Jonathan Shumaker and Biaggio Walsh each scored on 1-yard runs for the Gaels. Booze's touchdown runs covered 53, 21 and 10 yards.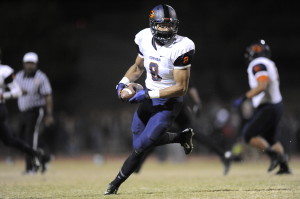 Just as impressive was the play of the Gaels' defense, which overcame an early fumble on its own 25-yard line by Martell to get the shutout. Notre Dame-bound safety Nicco Fertitta celebrated his 18th birthday with his third interception of the year, and the front seven, led by sophomore defensive end Haskell Garrett, middle linebacker Nela Otukolo and tackles Jackson Perry and Noah Tialavea, dominated.
"It's hard to do," Sanchez said of getting a shutout. "That's a tough offense. I'm proud of our guys. It's one of those deals where it's blood and guts, three yards and a cloud of dust."
"It's big-time," Fertitta added. "They're a tough team with a lot of physical guys. We'd never shut them out since Coach Sanchez has been here. That was our goal starting last week during the bye week, and we took care of it."
Bishop Gorman(10-0, 4-0), ranked No. 1 in the nation by both USA Today and MaxPreps, now sets its sights on trying to earn its sixth consecutive state title. That journey begins Friday night with a first round Sunset Region game against Desert Oasis (2-7, 1-3), the fourth place finisher in the Northwest League. Palo Verde (6-3, 3-1) opens at home against Cimarron-Memorial (4-5, 2-2).
"Now we're 0-0," Fertitta said. "We've got to take them one at a time and hope to get to state."
The state Division I final is scheduled for Dec. 6 in Reno at 12:05 p.m. at a site to be determined.
PHOTOS BY JOSH HOLMBERG
Related Articles
Share
About Author
(0) Readers Comments