Bishop Gorman's Homecoming game with Legacy didn't exactly get off to a good start for the Gaels Friday night at Fertitta Field.
Gorman fumbled the opening kickoff and found itself trailing 6-0 after just 21 seconds when Longhorn quarterback Tanoa Alapati hit D'Angelo Lindsey with a 23-yard touchdown pass. The PAT was blocked.
But it took the Gaels (9-0, 3-0), ranked No. 1 in the nation by both USA Today and MaxPreps, just 17 seconds to take the lead for good on a 67-yard touchdown run by Russell Booze en route to a 63-6 halftime lead and eventual 70-13 Southwest League victory.
Tate Martell passed for 178 yards and four touchdowns in a little over quarter of action, including three scoring passes to Cordell Broadus in the first quarter alone that covered 18, 28 and 33 yards. Booze finished with 141 yards on four carries, including a 68-yard touchdown run in the second quarter, while sophomore wide receiver Tyjon Lindsey caught a pair of 25-yard touchdown passes.
(STORY CONTINUES BELOW)
Senior Danny Hong finished the game at quarterback and had touchdown passes of 25 yards to Lindsey and 17 yards to Nick Nielson in the fourth quarter while sophomore defensive end Haskell Garrett scored on a 12-yard fumble return and Jonathan Shumaker added a one-yard touchdown run.
The Gaels intercepted four passes and held Legacy (2-5, 1-1) to just 181 total yards. The second half was played with a running clock.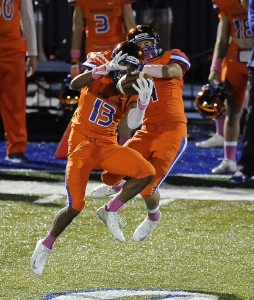 "We did a real good job in the passing game," Bishop Gorman head coach Tony Sanchez said. "It's hard when they're lining up to stop the run. You have one-on-one on the outside and we had some guys who could make some plays."
The Gaels have a bye next week before concluding the regular season at Palo Verde (5-2, 2-0), a 69-13 winner over Durango, on Oct. 30 in what will likely decide the Southwest League title.
"We just finished our ninth game and we haven't had a bye yet," Sanchez said. "You look at that stretch of games that we played … we're in need of a bye right now."
PHOTOS BY JOSH HOLMBERG
Related Articles
Share
About Author
(0) Readers Comments