Getting ready to begin his fifth year as UNLV's radio analyst with Jon Sandler, Robert Smith, a key starter on the Runnin' Rebels first Final Four squad in 1977 and arguably the best point guard in school history, says he has a "great job."
But Smith, an assistant under Jeff Wagonseller for two state championship teams during the 1990's at Bishop Gorman, also enjoys coaching high school basketball.
Now he gets to experience the best of both worlds.
Smith was hired last month to be the head coach at Quest Preparatory Academy, which holds its high school classes at the Bill and Lillie Heinrich YMCA across the street from the Meadows Mall.
Don't fret Runnin' Rebel basketball radio listeners. Part of the condition that Smith made in accepting the position was that he could still remain one of the voices of UNLV hoops.
"They came to me this year and asked if I'd be interested in the head coaching job," said Smith, who had helped assist former Knights' head coach Greg Lockridge, who left to help revive the basketball program at Trinity High School and run the Simply Fundamental AAU program. "I kind of thought about it and thought, 'Yeah, I'll do it.'"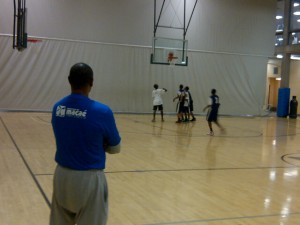 One big reason Smith decided to take the job was the fact school administrators gave him the flexibility to work the team's schedule around his UNLV radio commitments.
"I didn't want to give up the radio job," Smith, who played seven years in the NBA and remains UNLV's career leader in free throw percentage (87.8), said. "I knew their scheduling wasn't set and I could pretty much set the schedule that I wanted. I saw that it could go together and said okay.
"I really like it. I wanted to get back into coaching, which I do in the summertime, but I wanted to do it year round. And this is a good chance."
Don't expect Findlay Prep II. Most of the players from a 30-win Quest team, including rising 2015 WF Sam Bittner, followed Lockridge to Trinity. Smith said he will likely have just eight players on his varsity squad this season.
"I think there's some kids, who with some extra work, could be Division I (prospects) but right now fundamentally need some work," Smith said. "A lot of the games will probably be out of town because we can't officially play in the NIAA. But there are still some AAU teams going year round and there's a bunch of charter schools in California and Arizona looking for games."
Smith's program certainly isn't lacking for facilities … or coaching. The Heinrich YMCA recently added on a state-of-the-art basketball court that is frequently used by NBA summer league and visiting college teams to work out on. That's in addition to two other practice courts and a state-of-the-art weight training facility. And Smith recruited ex-UNLV assistant Eric Saulny and former Marquette star Michael "Pop" Sims, who played for the late Rick Majerus, to come on as assistants.
"I think it's going to be fun," Smith said.
And busy.
Related Articles
Share
About Author
(0) Readers Comments