Different year. Different Sanchez. Same old result for Bishop Gorman.
A year ago it was future UNLV head coach Tony Sanchez getting the Gatorade treatment after leading the Gaels to a perfect 15-0 record, a NIAA Division I state title and eventual first-ever mythical national championship. Saturday afternoon at Sam Boyd Stadium, it was brother Kenny Sanchez's turn.
The Gaels, behind 255 yards rushing and three touchdowns by explosive junior running back Biaggio Ali Walsh and three touchdown passes by Texas A&M-bound junior quarterback Tate Martell, cruised to their seventh consecutive Nevada state title with a 62-21 victory over six-time Sunrise Division champion Liberty.
The win likely cemented at least a share of a second straight national title for the Gaels. Bishop Gorman began the week ranked No. 1 nationally by USA Today and was rated No. 3 by MaxPreps behind No. 1 Bellflower (Calif.) St. John Bosco, which lost later on Saturday night to No. 2 Corona Centennial, 62-52, in the CIF Southern Section Pac-5 Division title game at Angel Stadium.
By winning, Corona Centennial (14-0) still has one very tough game remaining. The Huskies will face No 9 ranked Concord De La Salle (12-1), the winner of the North Coast Section title, on Dec. 19 in the CIF State Open Division final at Sacramento State. A De La Salle victory would likely mean a sweep of both national titles for the Gaels.
"Those (ratings) you can't control," Kenny Sanchez said. "This we can control. We can control the state title every year.
"I think (national rankings) are fun. It creates buzz, it creates excitement for our kids, four our community, for the pollsters, for the media."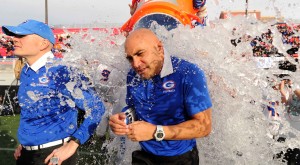 Sanchez, the defensive coordinator for last year's national title squad, was asked if he felt a sense of relief after filling the big shoes of his brother and continuing the string of state titles for the Gaels.
"Literally, because he's got bigger feet than me and he's taller," he said with a smile. "Nah, I feel happy for this year. I feel happy for our seniors, for our community and our school. I really haven't thought about anything more than that."
In a couple weeks, he will probably have to when Bishop Gorman claims another mythical national crown.
HOW IT HAPPENED: Ali Walsh, the grandson of legendary heavyweight champ Muhammad Ali and recently named Gatorade's state player of the year, had touchdown runs of 41, 26 and 58 yards while helping lead Gorman to a 34-7 first half lead. The Gaels boosted the margin to 55-14 two plays into the fourth quarter on the third of Martell's three TD passes, a 45-yarder to senior wide receiver Brandon Gahagan. Martell let go with a perfectly placed deep out throw just as he was getting drilled in the chest by a Patriots defender and Gahagan did the rest. Martell also had TD throws of 31 yards to sophomore tight end Brevin Jordan on a 4th-and-5 in the second quarter and 32 yards to junior wide receiver Tyjon Lindsey in the third quarter. Junior DE/FB Haskell Garrett got the party started with a two-yard plunge to cap Gorman's opening 70-yard drive.
WHO STOOD OUT: Ali Walsh, Martell and Lindsey – who also made a couple big-time plays at corner – stood out as usual. So did junior safety Bubba Bolden who came up with a key interception after Liberty had cut Gorman's lead to 20-7 and then recovered the ensuing onside kick. Junior DB Malik Hausman also came up with a highlight-reel pick down just before halftime. And the Gaels' offensive line, led by senior center Sione Lasike, UNLV-bound tackles Julio Garcia II and Jaron Caldwell and guards Amir Johnson and Adrian Dupuis, dominated the trenches.
THE SKINNY:Sanchez was the first to credit his players and assistants for keeping the well-oiled Gorman machine running smoothly after he took over as head coach, but he deserves major kudos for handling the pressure-packed situation of inheriting a defending national championship squad and keeping it focused and together enough to accomplish the difficult task of repeating. And a thumbs up to Liberty coach Rich Muraco for guiding his young and improving squad to an 11-2 record that included an impressive 76-53 victory over Hawaii heavyweight Mililani.
QUOTES TO NOTE:
Bishop Gorman coach Kenny Sanchez on whether he'll be watching the rankings to see if his squad has done enough to repeat as mythical national champions:
"I'd be lying if I said I didn't. But at the end of the day, now I feel better no matter what happens because we won a state title and we earned that on the field."
Liberty coach Rich Muraco on whether he felt his program took another step forward this season:
"Absolutely. We'll continue to play nationally-ranked teams – we've got three already scheduled for next season that we're going to announce soon. … We're going to continue to strive to take down the monster."
NOTABLE: Bishop Gorman has won 76 straight games against in-state opponents dating back to 2008. … The victory was the 39th in a row for the Gaels to a 28-12 home loss to Miami's Booker T. Washington High School on Oct. 4, 2013. The Tornadoes, quarterbacked by current Florida QB Treon Harris, went on to claim the national championship. … Liberty sophomore QB Kenyon Oblad and junior WR Ethan Dedeaux combined for three touchdown passes covering 20, 6 and 27 yards and both have Division I futures.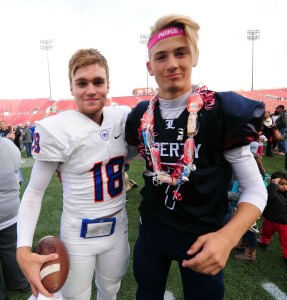 PHOTOS BY JOSH HOLMBERG
STATE CHAMPIONS! #7PEAT?? pic.twitter.com/l7StIQgdri

— Tate Martell™ (@TheTateMartell) December 6, 2015
Related Articles
Share
About Author
(0) Readers Comments