The main headline at the top of ESPN.com's high school page caught the attention of a lot of people at Findlay Prep on Friday.
It read: "Stopping Shabazz Muhammad is a daunting task."
Pilot senior swingman Winston Shepard, who had just help shut down one of the nation's top juniors, Jabari Parker of Chicago Simeon, last week, took the story as a challenge heading into Saturday afternoon's much anticipated Big City Showdown Challenge between the Pilots and Bishop Gorman.
Muhammad, rated the top prospect for the Class of 2012, finished with 19 points but only had six when it mattered as the Shepard-led Pilots (19-1) cruised to a 73-61 victory over the Gaels (13-4) before a sellout crowd at Cox Pavilion.
Muhammad had 13 of his 19 points in the fourth quarter after Findlay Prep had used an 18-1 run to build up a 58-41 lead.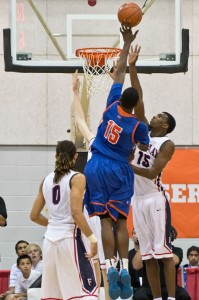 Shepard, an AAU teammate of Muhammad's since the seventh grade, was arguably the MVP of the game with 12 points, 10 rebounds, 4 assists and some lockdown defense.
"Everybody was acting like he is God or something," the 6-foot-8 Shepard said. "I'm a good player too, you know what I'm saying? I know how to play basketball. I just came out and showed what I can do."
Shepard was asked if he might have had an advantage going into the game since they have been longtime teammates on the Dream Vision AAU squad.
"I've been playing with him a long time so I know what he does," Shepard said. "But I don't think that's really the reason I played good defense on him. I played good defense because I took it personal."
Personal?
"Our coach (Mike Peck) put it out there and showed us what the media was saying and what people were trying to say … that he was unstoppable, and this and that. I just wasn't buying into that to be honest with you guys. So I took it personal and tried to do the best job that I could do."
UConn, St. John's, Oregon, San Diego State, UNLV, New Mexico, Oklahoma State are among the schools recruiting Shepard.
"No favorites," he said.
Findlay Prep won despite the fact its top prospect, 6-foot-8 forward Anthony Bennett (hamstring), didn't play. Former UNLV commit Nigel Williams-Goss also had a big game for the Pilots with 20 points and 4 rebounds.
Bishop Gorman actually led the game at halftime, 34-33, thanks to a 70-foot buzzer-beater by Oregon-bound forward Ben Carter. But Findlay Prep blew the game open in the third quarter with a 14-0 spurt that included a 3-pointer by Shepard.
Muhammad finished just 9 of 19 from the floor and had nine rebounds.
[flagallery gid=1 name="Gallery"]
Related Articles
Share
About Author
(1) Reader Comment