With a team loaded with Division I recruits including Kansas-bound guard Kelly Oubre, Arizona-bound forward Craig Victor and arguably the nation's top shooting guard prospect in Rashad Vaughn, some wondered if Findlay Prep would lose a game this season.
But the Pilots dropped their second game in the span of nine days on Friday night, getting upset by Prime Prep of Dallas, 70-67, in the Tarkanian Classic at the Orleans Arena.
SMU-bound guard Emannuel Mudiay, regarded by some scouting services the nation's top guard prospect, scored 12 of his 24 points in the fourth quarter and sophomore guard De'Shawn Williams scored a game-high 26 points, including 6-of-8 3-pointers, as Prime Prep rallied from a six-point fourth quarter deficit.
The loss by the Findlay Prep (15-2) was all the more surprising since Prime Prep (9-1) was coming in off a 69-58 loss to Our Savior New American (Centereach, N.Y.) on Friday night.
"We gave that game away," Mudiay said. "Coach said to leave that one in the locker room and to move on. We felt that this was our most important game of the season. We had a goal to go undefeated this year. This win was very important for going to D.C. (the NHSI) at the end of the season."
Findlay Prep, which was upset at home by Future College Prep of Harbor City, Calif., 73-71, on Dec. 11, had a 56-50 lead with 5:48 remaining after a three-point play by sophomore forward Justin Jackson.
But Mudiay, who finished with just 15 points in Friday night's loss, took charge down the stretch, scoring eight points during a 13-2 run over the next four minutes as the Pilots seemed to lose their poise, turning the ball over three times, forcing several bad shots and picking up a key technical when Vaughn slammed the ball to the court after getting whistled for a travel.
(STORY CONTINUES BELOW)
Mudiay's free throw with 55.6 seconds left gave Prime Prep a 66-60 lead. Findlay Prep got as close as 68-67 on a pair of free throws by Oubre with 10 seconds left, but Mudiay then pushed the lead back to three with two free throws with 8.6 seconds to go.
Findlay Prep had a chance to try and tie it and force overtime but point guard Derryck Thornton lost control of the ball under tough defense by Mudiay and the Pilots never got a shot attempt up.
Oubre finished 20 points to lead the Pilots but was just 5-of-16 from the floor. Thornton finished with 14 points, Victor added 10 and Vaughn had nine points.
In the Platinum Division semifinals, Bishop O'Dowd 6-foot-10 center Ivan Rabb showed why he's ranked by some scouting services as the top prospect for the Class of 2015 by scoring a game-high 24 points and grabbing seven rebounds to lead the Dragons (4-0) to a 68-54 victory over Bishop Gorman.
Rabb was 12-of-18 from the floor despite frequent double-and-triple teams by the Gaels. A quick leaper and excellent athlete, Rabb had four dunks and caused Gorman headaches with his ability to beat defenders down court on the fast break.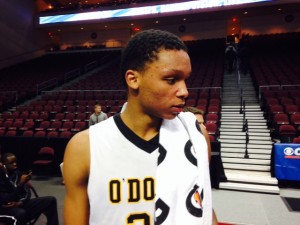 Rabb had plenty of help from guards Juwan Anderson (16 points, 4 assists) and Paris Austin (15 points, 5 assists).
Guard Noah Robotham led the Gaels (5-3) with 15 and three steals while Chase Jeter added 13 points and a game-high eight rebounds. Guard Obim Okeke, who just recently joined the team after playing on the state championship football team, finished with nine points and five assists while Stephen Zimmerman, still rounding into shape after being sidelined with an ankle injury, had six points (3-of-6 attempts) and five rebounds.
Bishop O'Dowd will face defending champion Mater Dei of Santa Ana, Calif., in Saturday night's championship game at 7:30 at Bishop Gorman. The Monarchs, behind a game-high 28 points by Arizona-bound forward Stanley Johnson and 22 points and six 3-pointers from junior guard La-Vette Parker, crushed Redondo Union, 84-38, in the other semifinal.
Related Articles
Share
About Author
(0) Readers Comments