The high school football season still has over two months to go but its mythical national champion has likely already been crowned.
Bishop Gorman (6-0), which began the season ranked No. 1 in USA Today's Super 25 ratings and entered Friday night's game with defending national champ and top-ranked St. John Bosco at No. 2, pretty much locked the title up with a convincing 34-31 victory at Fertitta Field.
Don't let the final score fool you. The Gaels, led by sophomore quarterback Tate Martell, who passed for 230 yards and two touchdowns and ran for another, built up a 34-10 lead late in the third quarter before the visiting Braves and the nation's top senior quarterback prospect, UCLA-bound Josh Rosen, rallied to make things interesting at the end.
Rosen, with Bruin head coach Jim Mora watching on the sidelines, completed 13-of-26 passes for 244 yards and three touchdowns, including an eight-yarder to Kaylin Franklin with 1:12 left to cut Gorman's lead to three points. Eric Daniels then executed a perfect onside kick that bounced high and off of the hands of a Gael, but sophomore wide receiver Tyjon Lindsey, who earlier had scored on an electrifying 72-yard catch and run touchdown, snatched the loose ball to seal the biggest victory by a Nevada high school team in state history.
(STORY CONTINUES BELOW)


Barring a monumental upset in NIAA play, Bishop Gorman figures to cruise to the finish line and garner not only its sixth straight state title but also its first national title.
"It's obviously awesome," Martell said of knocking off the nation's No. 1 team. "It's just amazing. There's no better feeling right now."
"It's amazing not only for the team but for the whole Bishop Gorman community to be able to come together and celebrate such an amazing game," added senior safety Nicco Fertitta. "It's a blessing to be a part of this."
Bishop Gorman coach Tony Sanchez left little doubt that he thinks his team deserves a No. 1 ranking after knocking off the defending champs as well defending Utah 5A champion Bingham and a trio of southern California heavyweights in Servite, Corona Centennial and Santa Margarita.
"To get through the six games that we have … nobody in the country has come close to playing that schedule," Sanchez said. "I don't know of any team in their 15 games this year that are going to play five top-50, three top-25, one No. 1. … I don't care where they're from or where their conference is."
The game, which was nationally televised by ESPN, started almost an hour late because of lightning in the area. Many in the sellout crowd of over 5,000 remained in the stands despite several lengthy downpours.
Once the game started, Gorman took control. Martell scrambled for a 5-yard touchdown run to cap a 71-yard, 11-play drive on the opening series of the game to give the Gaels a quick 7-0 lead.
St. John Bosco, which entered the game with a 19-game winning streak, closed to with 7-3 on a 39-yard field goal by Daniels early in the second quarter, but the Gaels responded with 20 unanswered points thanks to an 80-yard touchdown run by Russell Booze, a one-yarder by Jonathan Shumaker and the 72-yard touchdown pass from Martell to Lindsey.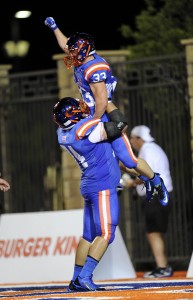 After Rosen threw his first touchdown of the night, a 13-yarder to wide receiver Anselem Umeh, Martell scrambled away from pressure and connected with tight end Alize Jones for a 24-yard touchdown that proved to be the game-winner.
"We just didn't have an answer for Martell," St. John Bosco coach Jason Negro said. "He did a great job."
PHOTOS BY JOSH HOLMBERG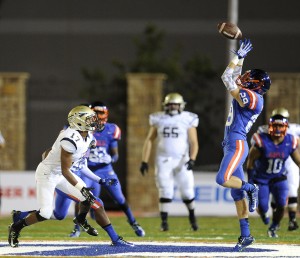 Related Articles
Share
About Author
(0) Readers Comments