By Barry Wong
MyLVsports.com
It seems that when a Southern Nevada basketball team wants a tough, non-league, road test early in the season, Foothill is always the answer. Last year, Las Vegas came in and won an overtime showdown. This year, Valley took the trip.
"Their fans, their band, everything, it's loud," Valley senior guard Cam Burton said. "We knew it was going to be a tough game."
Valley outlasted the Falcons on the way to a 67-63 win to improve to 5-0 for the season.
"Coming to Foothill, it's one of the toughest places to play," Valley head coach Brian Farnsworth said. "It's something for us to build on and get better."
Burton led the Vikings with a game-high 32 points, including several key baskets in the fourth quarter. Senior guard Darrion Daniels added 14 points, but his defense clinched the win with a steal with less than 25 seconds to go and Valley up 64-62.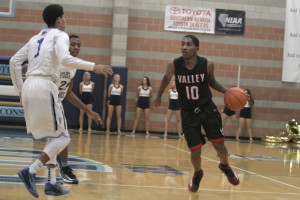 Valley trailed 37-34 at the half. The Vikings were beat on the several cuts to the basketball, especially by Foothill senior big man Torrance Littles, who led the Falcons with 20 points. In the second half, the Vikings adjusted by switching every pick play.
The Vikings will host Palo Verde on Thursday, while Foothill will travel up north to face Douglas.
Related Articles
Share
About Author
(0) Readers Comments