Las Vegas may not have been deemed worthy for an expansion franchise by the MLS this time around but the turnout for Sunday night's inaugural Las Vegas Pro Soccer Challenge Cup showed there is definitely a market for the sport.
An announced crowd of 7,100 – it appeared to be every bit of that if not more – turned out for the first professional soccer game ever played at Cashman Field, the longtime triple-A home of the Las Vegas 51s. The San Jose Earthquakes, which got goals from U.S. National team member Chris Wondolowski and JJ Koval, defeated the Colorado Rapids, 2-0.
"It was a great night, a great crowd," Wondolowski said. "It was a great field. The grass was impeccable which I thought made for a better style of soccer. It's still preseason and were still working the kinks out, but I actually thought both ways it was a bit exciting."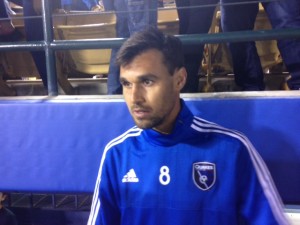 Grass covered the right side of the infield to the pitchers' mound and the cozy pitch went from the first base line to center field.
Wondolowski, who led the MLS in scoring in both 2010 and 2012 and was named the league's MVP in 2012, liked what he saw from the strong turnout for a preseason friendly between two out of state squads.
"It shows that the fans are very knowledgeable and love the game and are great fans," he said. "I do hope the league continues to grow and Las Vegas is an option. It's a good place."
Wondolowski scored the only first goal in the 43rd minute after a San Jose teammate collided with Colorado goalie Clint Irwin going for a crossing pass. The ball bounced right to Wondolowski who easily drilled it into the center of the goal.
Koval, a midfielder from Westlake Village, Calif., made it 2-0 in the 73rd minute when he bounced in a corner kick from Leandro Barrera.
Colorado had a handful of scoring chances during the match with Dominique Badji just putting a shot over the crossbar and Dillon Serna sending a header a few feet wide of the net minutes apart midway through the first half.
Afterward, game officials presented San Jose players with the Las Vegas Pro Soccer Challenge Cup Trophy.
"It's preseason but it's also nice to win a cup," Wondolowski, who took time afterward to pose for numerous selfies by the third base dugout, said. "It doesn't matter if it was one game. It means a lot. It was good."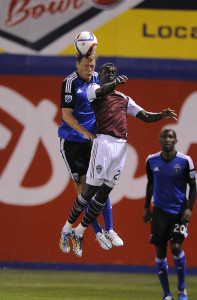 PHOTOS BY JOSH HOLMBERG
Related Articles
Share
About Author
(0) Readers Comments