Nicolai Bornand was rated the nation's No. 16 kicking prospect by ESPN.com his senior year at Dos Pueblos High School in Santa Barbara, Calif. But when it came time to pick a college, the former Channel League Defensive MVP picked UNLV because the Rebels promised him the chance to play linebacker.
The 6-foot-1, 230-pound sophomore has yet to make an impact on defense for UNLV during his career but Friday night he made two of the biggest plays of the season for the Rebels in a 30-27 upset of Fresno State at Sam Boyd Stadium.
Bornand connected on a 47-yard field goal late in the fourth quarter to tie the game at 27-27, then booted the game-winner from 33-yards in overtime as UNLV (2-5, 1-2) defeated an FBS team for the first time since last November.
Not just any FBS team, mind you. But the defending Mountain West Conference champion Bulldogs (3-4, 2-1), who entered the game all alone in first place in the West Division and had beaten the Rebels 10 straight times dating back to 1984 when Randall Cunningham was quarterbacking UNLV.
"It's always been a dream and it's always been there," Bornand said of kicking a game-winning field goal. "I never thought I'd get the chance. And given the chance – it's a once in a lifetime opportunity and I'm glad we came out on top. I don't regret it."
Bornand got the chance because UNLV's normal short-yardage field goal kicker, Jonathan Leiva, pushed a potential game-winning 26-yarder right at the end of regulation.
"That would deflate a lot of teams," UNLV coach Bobby Hauck said. "Coupled with the fact that we were 1-5, that we had lost four in a row, and then to have that happen to us, it just shows the type of character we have in the locker room."
Fresno State, which trailed 17-0 at halftime, had rallied to take a 27-24 lead on a 13-yard touchdown run by Marteze Waller with 7:21 remaining but its placekicker, Kody Kroening, missed what turned out to be a very key PAT that would have put the Bulldogs up by four.
The Bulldogs also blew another chance to seal the win before Bornand's 46-yarder when safety Derron Smith, the Mountain West's preseason defensive player of the year, dropped an interception at midfield.
UNLV won the toss and elected to play defense first in overtime. The Bulldogs, plagued by kicking woes themselves during the season that even forced head coach Tim DeRuyter to hold on-campus auditions for walk-on placekicking candidates, decided to go for it on 4th-and-3 at the 18 instead of settling for a field goal try. But quarterback Brian Burrell, under pressure from a strong Rebel pass rush, barely overthrew an open Waller in the end zone.
That meant UNLV just needed to kick a field goal on its ensuing possession to win it. The Rebels drove to the 16 where Bornand, after a Bulldogs' timeout to "freeze him", drilled the game-winner.
(STORY CONTINUES BELOW)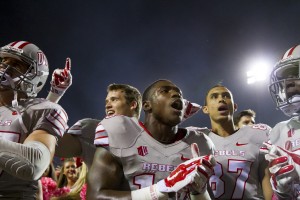 "All night long we talked about playing the next play and not worry about the last one," Hauck said. "We could not worry about the missed field goal. That would have been catastrophic for us."
The Rebels got big games offensively from quarterback Blake Decker, who completed 29-of-40 passes for 332 yards and a touchdown and also rushed for 40 yards and another score, wide receiver Devonte Boyd, who caught seven passes for 77 yards, and running back Keith Whitely, who finished with 87 yards on 18 carries.
"We played the best we played all year," Hauck said. "To defeat the defending conference champions who are so well-coached and has so many good players, it's just a huge win for us."
"We needed this bad," Boyd said. "Everybody. Not just players, coaches, staff, everybody needed this win tonight. This was a very big win for us."
The good news is that the Rebels get some time to enjoy it. UNLV has a bye next weekend before heading north to face defending Mountain Division champion Utah State on Oct. 25.
PHOTOS BY JEREMY RINCON
Related Articles
Share
About Author
(0) Readers Comments