RENO – Monday is normally a day off for the UNLV football team. But head coach Tony Sanchez is going to make an exception this week.
Seems his squad has a little painting to do.
The school plans to hold a ceremony on campus on Monday — time still to be announced — for the Rebels to paint the Fremont Cannon red again following Saturday's 23-17 upset of UNR at Mackay Stadium.
Linebacker Ryan McAleenan probably deserves the first brush.
The 6-foot-2, 220-pound junior from St. Francis High School picked a good time to return an interception for a touchdown for the first time in his life.
"Never have before," McAleenan said after making the biggest play of the game, a 52-yard pick-six return in the fourth quarter to help the Rebels hold on for the victory in the Mountain West Conference opener for both teams.
It was the second straight win for the Rebels (2-3, 1-0), who have already matched their 2014 win total under first-year coach Sanchez.
Junior tailback Keith Whitely and sophomore backup quarterback Kurt Palandech each had touchdown runs for UNLV, which led 13-3 after three quarters and seemed in control of the game.
But Nevada (2-3, 0-1) closed to within 13-10 on a 23-yard TD pass from junior quarterback Tyler Stewart to junior wide receiver Jerico Richardson with 10:47 remaining and had the ball on its 49-yard line when McAleenan picked off a Stewart pass in the flat that was deflected at the line by senior defensive end Jeremiah Valoaga and then raced 52 yards up the left sideline to increase UNLV's lead to 20-10.
"I saw the ball get tipped and then I broke on it," McAleenan said. "I was just trying to get to the corner of the end zone as fast as I could. … It's the biggest play of my life."
"Defensively, we hung on," Sanchez said. "They were on the field a lot. They made some big plays. And that pick-six – nothing gets bigger than that. That might have been the biggest turnover I've been around in my coaching career."
Nevada closed to within 20-17 one a 1-yard run by Don Jackson with 4:50 left but turned the ball over on downs at its own 33 on its next possession. Junior Nicolai Bornand then kicked a 45-yard field goal with 1:53 to go to make it 23-17, and Nevada's final drive stalled at the UNLV 43.
"Our team is in a lot of pain, as am I," Nevada coach Brian Polian said. "Very disappointed. Give UNLV a ton of credit. They made a couple more plays than we did, especially the big one in the second half when we had the game at 13-10 and all the momentum going our way."
UNLV dominated the first half, rolling up 246 yards to just 103 for the Wolf Pack while controlling the ball for over 19 minutes.
Still, the Rebels only led 7-0 on Whitely's scoring run on the first series of the game until Palandech scored on a 12-yard run with 30 seconds left in the half. Bornand's extra point, initially ruled good on the field, was later reviewed and found to have gone wide left and the Rebels went into halftime with a 13-0 lead.
UNLV starting quarterback Blake Decker left the game with 38 seconds left in the second quarter with a left arm injury after landing awkwardly at the end of a scramble. Decker watched the second half with his arm in a sling.
"He had a shoulder injury to his non-throwing shoulder," Sanchez said. "Hopefully we'll get him back next week. To win that game with the starting quarterback going down, that speaks a lot to our kids' character."
Nevada bounced back to finish with a 343-to-301 edge in total yards and a 24-to-18 edge in first downs.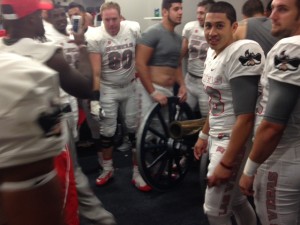 Related Articles
Share
About Author
(0) Readers Comments