BY STEVE GUIREMAND
MyLVsports.com
A not-so-funny thing happened to the UNLV Rebels on their way to an expected blowout of FCS lightweight Northern Colorado on Saturday night at Sam Boyd Stadium.
The Rebels (1-1), who closed as 26½ favorites over a Bears team that had lost 11 straight games and was picked to finish 13th out of 13 teams in the Big Sky Conference, barely eked out a 13-12 victory before an announced crowd of 17,289.
"We're very fortunate to get the win," UNLV coach Bobby Hauck admitted.
Jonathan Leiva's 35-yard field goal late in the third quarter four plays after an interception by free safety Mike Horsey put the Rebels up 13-10 and proved to be the game-winning points.
But Northern Colorado (0-1) had a chance to win it, sacking Rebel quarterback Blake Decker for a safety with 10:54 to go. And on the ensuing possession, the Bears drove to the UNLV 6-yard line where freshman placekicker Seth Czapenski pushed an easy 23-yard field goal to the right of the uprights.
Toss in the fact the Rebels had gotten three points on a school-record tying 54-yard field goal by Nicolai Bornand and the outcome very easily could have been reversed … against a bad FCS team.
(STORY CONTINUES BELOW)
"At the end of the day we came out with a win," Decker said. "Whether it's one point or whether it's 40 points … we're walking out of here with a 'W' and that's what is important."
Decker struggled badly in his UNLV home debut, completing 11-of-18 passes for 121 yards and a touchdown but also throwing three of the team's four interceptions. Wide receiver Marcus Sullivan, carted off at the end of the game with what initially appeared to be a left knee injury, had the other on a poorly executed flea flicker play.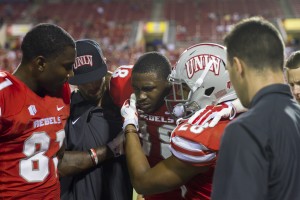 At the time of Sullivan's errant pass late in the first quarter, some wondered why UNLV felt the necessity to pull out trick plays against a low-end FCS squad. But as the game progressed, it became more and more apparent that the Rebels – at least on this night – weren't much better than the Bears.
Hauck blamed losing the turnover battle 4-1 as a major reason for the nail-biting ending.
"You can't lose the turnover battle that way and win generally, and we did" Hauck said. "Credit to our guys for fighting their way through some fairly adverse circumstances."
The Rebels, who finished with a slight 332-327 edge in total yards including 211 yards rushing, did put together a nice drive after Czapenski's miss to chew up most of the last 5:45 on the clock. Still, UNLV found a way to almost even flub that up.
With the drive stalled at the Northern Colorado 6-yard line and not wanting to risk a blocked field goal with just 15 seconds left, Decker rolled to his right and was picked off in the end zone by corner Courtney Hall who ran it back to the 15. Sullivan was injured on the play and he had to be helped back to the bench.
The miscue also gave the Bears one final play with three seconds left. Wide receiver Stephen Miller caught an 18-yard pass, then lateraled to running back Robert Holland who gained 10 more yards before fumbling out of bounds near midfield as time ran out.
"All wins are a thing of beauty, but that would probably be only maybe in my eyes," Hauck said. "Northern Colorado came in here and did a nice job of holding us down."
The Rebels next host Northern Illinois (2-0), which upset Northwestern, 23-15, earlier Saturday, on Sept 13 at 4 p.m.
Blake Decker safety photo and Marcus Sullivan injury photo by Jeremy Rincon
Related Articles
Share
About Author
(0) Readers Comments