BOISE, Idaho – In a roller-coaster season that has had some highs and far too many lows, Saturday night's 91-90 overtime loss to Boise State will no doubt go down as the ultimate kick in the gut for the UNLV Runnin' Rebels.
From joyous celebration over Deville Smith's apparent game-winning 3-pointer at the buzzer to stunned disbelief that the basket was being overturned two nerve-wrecking minutes later after referees viewed instant replay videos two different times and determined that ball was still on Smith's fingertips when the shot clock above the basket had hit 0.0.
The red lights around the backboard that could have aided officials in making the decision malfunctioned and didn't come on. But lead official Randy McCall told reporters that they blew up the video replay afterward and that he was "1,000 percent sure" Smith still had his fingers on the ball.
After McCall gathered UNLV coach Dave Rice and Boise State coach Leon Rice together at midcourt to announce his findings, the Broncos' coach smiled, turned around and double fist-pumped the crowd as Taco Bell Arena erupted with cheers and Boise State players ran on the court to celebrate. Check out the VIDEO below:
Meanwhile, Rebel players stood in disbelief before slowly walking back to the locker room to digest a game that they had numerous chances to win, including a driving layup by Smith that would have won it in regulation but rolled off the rim. That came after UNLV missed six of its final 10 free throws in regulation, including five in the final four minutes.
"I just feel incredibly bad for our team," Dave Rice said. "It's unfortunate in a game like this that either team has to lose."
Boise State had taken the lead with just 3.4 seconds left when guard Derrick Marks, who scored all 13 of his team's points in overtime, sank a difficult 12-foot fallaway jumper in the key.
The Rebels then immediately inbounded the ball to Smith who raced up the floor and swished the long jumper. McCall initially counted the basket as good and Rebel players piled on Smith at the free throw line in celebration before standing around anxiously for the replay verdict to be announced.
"It's a bitter pill to swallow but there's four conference games to be played, there's a ton still to play for, and I could not be prouder of my group in terms of how hard they played and how well they played together tonight," Rice said.
Six players finished in double figures for UNLV (17-10, 8-6) led by Deville Smith's 22 points and seven assists. Khem Birch finished with 16 points, 11 rebounds and six blocks, Bryce Dejean-Jones scored 16 points and Roscoe Smith added 14 points and eight rebounds.
Ryan Watkins had 22 points and 15 rebounds and Anthony Drmic scored 22 points, including four 3-pointers, to lead Boise State (18-9, 8-6).
UNLV returns to action on Wednesday night when it hosts Colorado State at the Thomas & Mack Center.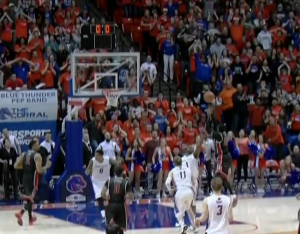 Related Articles
Share
About Author
(0) Readers Comments