It was a roller coaster day of emotions for UNLV coach Dave Rice.
It began with an early morning phone call informing him that one of his former bosses and mentors, Charlie Spoonhour, had passed away at the age of 72. It ended with a convincing 82-63 victory by the Runnin' Rebels over Colorado State (14-7, 3-3) before an enthusiastic crowd of 15,053 at the Thomas & Mack Center that enabled 11th-ranked UNLV (21-3, 5-1) to remain in a tie for first place with San Diego State in the Mountain West Conference.
The Rebels wore a special patch with the initials "C.S." on their jerseys. The game was preceded by a moment of silence for Spoonhour, who coached UNLV from 2001-04.
"Coach Spoon was obviously someone special in my life," Rice said. "He gave me an opportunity to stay at UNLV and be part of his staff. We all have people who are a mentor and help us grow and Coach Spoonhour was definitely one of those for me."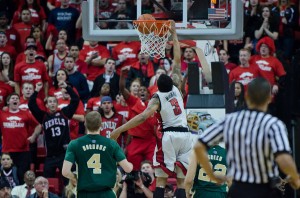 Several Rebel players, knowing of Rice's close relationship with Spoonhour, dedicated the game to him.
"(Spoonhour) was a mentor to Coach Rice, and we took it upon ourselves to go out and play this game for him," forward Mike Moser, who finished with 13 points and eight rebounds, said.
"I think he would have been proud of the job our guys did tonight," Rice said. "We got off to a little bit of a rough start (Colorado State led 19-12 after seven minutes) and a large part of that is that Colorado State is a terrific offensive team. If one guy on the floor makes a mistake defensively, they're very likely going to hit a 3-point shot."
The Rebels turned up the defensive intensity after the slow start and went on a 20-2 run over the next seven minutes highlighted by a pair of 3-pointers by Chace Stanback (16 points, 5 rebounds) and reserve guard Reggie Smith, who also had highlight-reel, between-the-legs save of a ball while falling out of bounds.
But the Rebels, who led 48-35 at halftime, sputtered badly to start the second half. Colorado State opened the half with an 11-0 run to close within two points, 48-46. But UNLV answered with an 11-0 run of its own highlighted by a twisting reverse layup by guard Justin Hawkins to take back control the game.
Senior guard Oscar Bellfield (16 points, 6 assists) tied Stanback for high-point honors while guard Anthony Marshall added 13 points and a game-high 7 assists. Forward Quintrell Thomas also had a big night with 9 points and 6 rebounds in just 17 minutes of action as the UNLV bench finished with a 20-3 edge over the Rams.
UNLV finished with 24 assists on its 30 baskets, shooting 50.0 percent from the floor. The Rebels also ended up with a 27-2 edge in fast break points.
Guard Wes Eikmeier led Colorado State with 18 points.
**
The Rebels may have another scholarship available to give in the spring.
Courtside media reported that backup guard Karam Mashour, apparently upset at a lack of playing time, refused to enter the game with 42 seconds remaining despite reporting at the scorer's table.
Stay tuned.
**
Hear Rice's post-game press comments in the video below.
Related Articles
Share
About Author
(0) Readers Comments