Derrick Jones, hampered by a sprained ankle for the past 10 days, had to talk his way into Thursday night's dunk contest at the inaugural Runnin' Rebel Madness.
The 2,000 or so UNLV fans that crammed around the court at the Downtown Las Vegas Events Center were glad he did.
The 6-foot-7 freshman from Archbishop John Carroll High School in Wayne, Pa., showed why he was widely-regarded as the nation's premier prep dunker with several eye-popping slams (see video highlights below), edging talented senior transfer guard Ike Nwamu in the final.
Jones, who won several national dunk competitions in high school, pulled out one of his signature dunks, running in from midcourt and then flying OVER three UNLV players lined up in front of the basket — including 7-foot freshman center Stephen Zimmerman – before slamming home the dunk.
"I felt like I was able to go," Jones said. "I talked to the coaches and trainer and they let me go."
It would have been perfectly understandable if UNLV coach Dave Rice had given the thumbs down to his star freshman forward, especially considering the Rebels open their 2015-16 season two weeks from tonight against Whittier College at the Thomas & Mack Center. But Jones said he felt "100 percent" afterward and didn't feel any pain following his high-flying dunks.
"They (UNLV coaches) didn't think I was 100 percent," Jones said. "They said it was completely my choice. I just went out and showed them that I was good."
The first 45 minutes of Runnin' Rebel Madness took place from a stage to one side of the court and featured plenty of loud music, a performance by the Rebel Girls and UNLV Cheer, a short speech from Las Vegas Mayor Carolyn Goodman and introductions of both the Lady Rebels and Runnin' Rebels, the latter which featured fog blowing across the stage as each player took turns dancing out in front of a large video board.
After the traditional pregame fireworks ceremony, the players took the court for a 3-point contest. Austin Starr, a freshman walk-on from Foothill High School and the son of former UNLV assistant Keith Starr, edged sophomore guard Jordan Cornish to win that competition.
The dunk contest, which also featured freshman guard Jalen Poyser, Zimmerman, Nwamu and Jones, then wrapped things up before players sat down at tables to sign autographs on schedule posters and pose for pictures.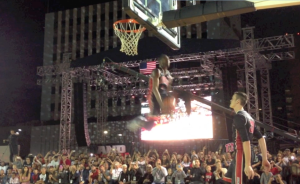 Washington Nationals star and Las Vegas High product Bryce Harper joined Goodman, UNLV athletic director Tina Kunzer-Murphy and Runnin' Rebel great Freddie Banks to judge the dunk contest and came away impressed.
"I think to be able to see what (Jones) does, being able to see all the YouTube videos and being able to see him live tonight, it's exciting for UNLV and the Rebels," Harper said.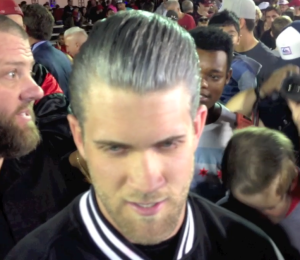 Related Articles
Share
About Author
(0) Readers Comments