In a season filled with near-misses and injuries, UNLV sewed up its first-ever berth in a Mountain West Conference Tournament play-in game with a hard-fought 60-58 Senior Night loss to San Diego State on Wednesday night at the Thomas & Mack Center. But that might be the least of head coach Dave Rice's problems.
The Rebels will be down to just six healthy scholarship players when they travel to San Jose State (2-27, 0-17) for their conference finale on Saturday night after freshman star Patrick McCaw missed the final 14:20 with a concussion. The school announced Thursday morning McCaw would miss the game and his condition "will be evaluated daily."
McCaw left the game after teammate Christian Wood, who jerked backward after a collision with Aztec guard Dakarai Allen, hit him square in the face with the back of his skull.
McCaw immediately fell to the ground on the baseline near the San Diego State bench and clutched his face in pain for several minutes while UNLV trainer Dave Tomchek tended to him. Once up, the obviously woozy McCaw slowly walked off the court and didn't return, spending the majority of the time in the locker room.
(STORY CONTINUES BELOW)
McCaw finished with seven points and two steals in 24 minutes of action. He had just scored on an end-to-end drive to cut San Diego State's lead to 38-36 when he went down.
"Concussion-like symptoms," Rice said of the injury. "He'll be re-evaluated (Thursday). That's all I know at this point. There's a concussion protocol, but I don't know exactly where he's going to stand on that."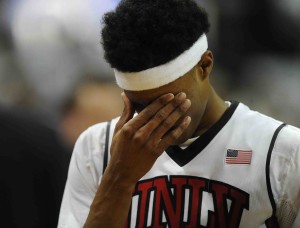 "Any time you have a head injury, that's something pretty serious," added point guard Cody Doolin, who finished with 12 points, four assists and zero turnovers in 39 minutes. "He's such a great player. We really missed him out there. … I just hope he's okay because we need him."
Leading scorer Rashad Vaughn and backup guard Dantley Walker both once again watched the contest in street clothes with knee injuries and it is unlikely either will be ready to play against the Spartans.
"Whoever we have on Saturday will go into San Jose State and play extremely hard," Rice said.
UNLV (16-14, 7-10) is now assured of playing in one of Wednesday's two play-in games in the Mountain West Tournament, most likely against in-state rival Nevada (9-20, 5-12) at 2:30 in the 7 vs. 10 matchup. The winner would then play the No. 2 seed – probably San Diego State (23-7, 13-4) – on Thursday at 6 p.m. in the quarterfinals.
Despite being shorthanded, the Rebels held a 51-50 lead with a little less than six minutes to go after a 3-pointer by Jordan Cornish, and were tied, 53-53, with 3:14 remaining after Wood sank a one-and-one.
But Trey Kell gave the Aztecs the lead for good when he scored on a layup after a Cornish turnover while trying to retrieve a wild Wood pass and, after Skylar Spencer swatted away a Doolin shot, the Aztecs pretty much sealed the win on a nice drive to the basket by JJ O'Brien past Goodluck Okonoboh to make it 59-55 with 16.7 seconds left.
O'Brien finished with a career-high 22 points and six rebounds while former Findlay Prep star Winston Shepard, who sank two clutch free throws a few seconds later, added 10 points, eight rebounds and four assists.
"We put ourselves in position to win but to San Diego State's credit they made some winning plays down the stretch," Rice said.
Freshman forward Dwayne Morgan led the Rebels with 13 points in 14 foul-plagued minutes.
"Dwayne Morgan was fantastic," Rice said. "We need to keep him out of foul trouble. He'll be very, very important for us."
Wood finished with 10 points, 16 rebounds and three blocks while Cornish added nine points on 3-of-5 3-point shooting and Jelan Kendrick finished with six points, five assists and two blocks in his final Rebel home game.
"I thought we played well," Doolin said. "I thought we didn't have anything to hang our heads about. … If you want to be honest, I think they wore us down. We ran out of gas."
It was UNLV's fifth straight loss to San Diego State and marked the second straight year the Rebels were swept by the Aztecs in Mountain West play. SDSU also improved to 6-2 in its last eight games against UNLV at the Thomas & Mack.
But the stat that probably hurts Rebel fans the most is this one: UNLV will finish with its first losing conference record since going 7-11 in its final year in the Big West Conference in 1995-96 under Bill Bayno.
PHOTOS BY JOSH HOLMBERG
Related Articles
Share
About Author
(0) Readers Comments