RENO – Three steps forward, one big step back.
Just when it looked like UNLV may have turned a corner following a disappointing 0-3 start to Mountain West play, the Runnin' Rebels reverted to pre-Dave Rice resigning form, turning the ball over 17 times and sinking just 14-of-28 free throws in a 65-63 loss to Nevada on Saturday night before at the Lawlor Events Center.
"We beat ourselves that game," a dejected senior guard Jerome Seagears told the media afterward.
The loss snapped a three-game win streak for UNLV (12-8, 3-4 Mountain West) under interim head coach Todd Simon. The Rebels also lost for the fourth time in six meetings with their in-state rivals.
The two teams combined for 50 fouls and 57 free throws, and it could have been a whole lot more in a physical contest that that even saw Rebel freshman forward Derrick Jones Jr. sent sprawling after a collision with an official.
Jones, who limped to the locker room with a right ankle injury, later returned and UNLV built a nine-point lead, 49-40, on a pair of Ben Carter free throws with 10:32 left.
But Nevada (12-7, 4-3), behind the hard-nosed play of senior guard Marqueze Coleman (game-high 21 points) and junior guard D.J. Fenner, rallied to take a 54-53 lead on a Fenner steal and dunk. The game see-sawed back and forth down the stretch until freshman guard Lindsey Drew, after a turnover by Dwayne Morgan, put the Wolf Pack ahead for good, 61-60, by sinking one of two free throws with a minute to go.
Nevada finished with a 24-12 edge in points off turnovers and also helped itself by making 27-of-37 free throws.
HOW IT HAPPENED: After Drew's free throw gave the Wolf Pack a 61-60 lead, UNLV guard Jordan Cornish was whistled for charging.
Coleman was then fouled by Ike Nwamu with 19.3 left and sank one of two free throws to up Nevada's lead to 62-60. Seagears had a chance to tie it five seconds later when he was fouled on a drive but made just one of his two foul shots. Coleman was fouled on the inbounds play and sank both free throws to increase UNR's lead to 64-61 with 13 seconds left.
Nwamu then had a chance to tie with a 3-pointer but missed and freshman guard Jalen Poyser put in the rebound with just two seconds left. Coleman, fouled again on the ensuing inbounds pass, made the second of two free throws with 1.4 remaining and UNLV, out of time outs, scrambled to get off a half-court shot by Patrick McCaw at the buzzer that wasn't close.
WHO STOOD OUT: Coleman was just 3-of-15 from the floor and 0-of-4 from 3-point range but made up for it by getting to the line with some tough drives to the basket. He made 15-of-20 free throws, including four in the final 19 seconds with the game on the line, and also finished with five assists and five rebounds.
UNLV didn't have a single player score in double figures. Carter led the team with nine points while freshman forward Stephen Zimmerman Jr. added seven points, a game-high 11 rebounds and three blocks but was just 1-of-6 at the free throw line.
THE SKINNY: UNLV is just 4-6 in its last 10 games and now hits the meat of its schedule: back-to-back home games against Boise State on Wednesday and first place San Diego State on Saturday. That's followed by a difficult two-game road trip to New Mexico and Fresno State. No time to mope.
QUOTES TO NOTE:
Simon on his team shooting just 50 percent (14-of-28) at the free throw line:
"You can't make 14 for 28 and expect to win any game at the end. Nah, if you go 14 of 28, you better be just unbelievable."
Seagears on the team's poor free throw shooting combined with 17 turnovers that resulted in 24 Wolf Pack points:
"We just beat ourselves that game. We probably could have made some more free throws. We missed (14) free throws, 17 turnovers. So we beat ourselves."

Wolf Pack guard Tyron Criswell, to the Reno Gazette-Journal, on the UNLV rivalry:
"Marqueze Coleman said they don't like us and they pretty much feel like there is no rivalry. Obviously in the last six games we've won four of them. Obviously it is a rivalry."
UP NEXT: UNLV hosts Boise State (15-5, 6-1) on Wednesday night at 8 p.m. at the Thomas & Mack Center. The contest has been designated as a "Red Out" with fans asked to wear red. There will be 5,000 red t-shirts given away as well as 3,000 water bottles (sponsored by the Southern Nevada Water Authority). The contest will also be shown on the CBS Sports Network.
NOTABLE: Zimmerman has made just one of his last seven free throw attempts. … The attendance was 11,341, the fifth-largest crowd at Lawlor Events Center and the largest since 11,462 fans packed into the arena on March 3, 2007 against New Mexico State. … Nevada finished with a 41-34 rebounding edge, including 16 offensive boards that led to a 10-7 advantage in second chance points. … The Wolf Pack finished 0-of-9 from 3-point range while UNLV was 3-of-19 behind the arc, a season-low 15.8 percent.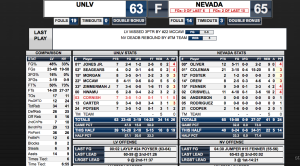 Related Articles
Share
About Author
(0) Readers Comments