UNLV's Mountain West Tourney hopes ended in familiar fashion on Thursday night at the Thomas & Mack Center – with a close loss to old nemesis San Diego State.
Former Findlay Prep star Winston Shepard scored five of his 12 points in the final 29 seconds, including a huge rebound basket that put the Aztecs ahead by five, and guard Akeel Quinn connected on 5-of-6 3-pointers en route to a team-high 21 points to lead San Diego State (25-7) to the come-from-behind quarterfinal victory.
JJ O'Brien added 15 points, including 11 in the second half, for the No. 2 seeded Aztecs, who will meet third-seeded Colorado State (27-5) in Friday night's semifinals. It was San Diego State's sixth straight win over the Rebels.
UNLV led at halftime for the 16th straight game, 29-23. And for the eighth time in that span, the Rebels went on to lose as Quinn and O'Brien both connected on 3-pointers to spark a 12-0 run to open the second half.
The Rebels (18-15) put up a fight, rallying to tie it, 49-49, on a Jelan Kendrick tip-in with a little over seven minutes remaining. But San Diego State answered with a 9-2 run capped by a drive by Quinn and the Rebels never could regain the lead down the stretch.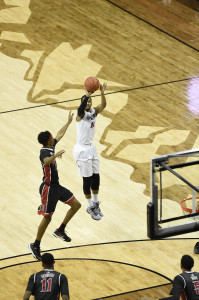 Sophomore forward Christian Wood, playing in what may have been his final game at the Thomas & Mack before heading off to the NBA, finished with 21 hard-earned points and grabbed eight rebounds to lead No. 7 seed UNLV while Kendrick added 13 points and 13 rebounds.
Unlike last year when the Rebels were also eliminated by the Aztecs, UNLV coach Dave Rice said his team would be interested in continuing its season even if it meant playing in one of the lesser tourneys like the College Basketball Invitational which has shown interest in inviting the Rebels. UNLV, which won't be selected by the NCAA Tournament or the National Invitation Tournament, will meet at noon on Friday to decide to continue its season. All indications afterward are the players will give postseason play a thumbs up.
"Our guys love to play and they all seem very excited to continue to play," Rice said.
"I definitely want to," Kendrick said. "It's my last year. I think we got a group of guys who love to play the game. Even if we weren't playing in the post-season, I feel like we'd be playing pickup games come Sunday. That's the type of guys we have."
That's a completely different attitude than what followed last year's tourney loss to the Aztecs when media were temporarily barred from the UNLV locker room following a player scuffle and Rice seemingly couldn't wait to put the season to bed.
"I told the guys afterwards it's a group that we want to keep coaching," Rice said. "We've got players in our program who love to play. I think every year is unique."
Ex-Rebel Bryce Dejean-Jones, who transferred to Iowa State for his senior season after last year's debacle, told the Ames (Iowa) Tribune on Friday that one of the reasons he left UNLV was that a unnamed teammate told him, "I should have shot you when I had the chance" in the locker room skirmish after last year's season-ending loss to the Aztecs.
"I'm like, 'You were going to shoot me?'" Dejean-Jones said. "So we started to get into it and the coaches ended up telling him you can just leave and go upstairs. I'm like, 'The guy just said out loud he should have shot me and you're going to let him leave the locker room? I'm leaving too. I'm not going to walk out to an ambush.'"
Two days later Dejean-Jones left UNLV.
PHOTOS COURTESY MOUNTAIN WEST/NCAAPHOTOS.COM
Related Articles
Share
About Author
(0) Readers Comments