Minutes after a strong defensive effort that included 12 steals, forcing 20 turnovers and finishing with a 21-0 edge in points off turnovers while grinding out a 67-46 victory over in-state rival Nevada, UNLV went on the offensive in the post-game press conference.
Specifically, forward Christian Wood.
The 6-foot-11 sophomore, who scored a game-high 28 points on 9-of-13 shooting, grabbed seven rebounds and had three blocks in 31 physical minutes, was asked about having to come back about 25 hours later to face well-rested No. 2 seed San Diego State (24-7) in Thursday night's Mountain West Conference Tournament quarterfinals at 6 p.m.
Question: "The last two times you played San Diego State, they played 10 guys, they press, try to take the legs out of you. You just played tonight. How are your legs? Are you tired or should San Diego State be worried?"
Wood: "San Diego State should be very worried. We're going to be ready. Our legs are going to be fine. We'll be well-rested and we're just going to play."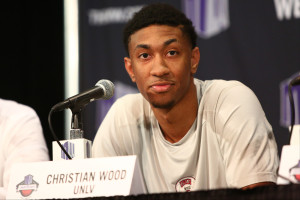 Rebel freshman guard Jordan Cornish, who scored 13 points including 3-of-6 3-pointers, then chipped in: "Like (Wood) said, they should be worried. In a tournament you can't be tired. It's win or go home."
It was about this time that UNLV head coach Dave Rice, who appeared to be about ready to blow a gasket, quickly cut off Cornish before any more bulletin board material could be issued for Steve Fisher's squad.
Rice: "Obviously we're equally worried because they're a fantastic team. You know the deal. San Diego State is fantastic, we know that, they've beaten us twice this year."
Golly gee, too late coach. The horse had already left the barn.
"Obviously (San Diego State coach Steve) Fisher is worried. I'm worried. We're all worried because it's the time of the year if you get beaten you go home in terms of the conference tournament.
"We have great respect for San Diego State and what they do. I speak for our guys when I say that."
Well, the Rebels should be worried.
The Aztecs have defeated UNLV (18-14) five straight times and are 6-2 in their last eight games played in Las Vegas. San Diego State has also defeated the Runnin' Rebels five straight times in Mountain West Tourney action.
UNLV has been competitive in both losses this season, leading by 11 points before tiring noticeably against the Aztecs' pressure defense and falling, 53-47, on Jan. 17 in San Diego. And that was with star guard Rashad Vaughn, out for the tournament rehabbing a knee injury, scoring a game-high 17 points.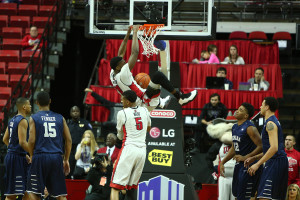 The Rebels also took the Aztecs to the wire before dropping a 60-58 contest at the Thomas & Mack last Wednesday night. UNLV might have snapped the losing streak to the Aztecs if not for the loss of guard Patrick McCaw to a concussion with 14:20 remaining.
McCaw, who missed UNLV's regular season-ending 71-58 win at San Jose State on Saturday, was back for Wednesday's win over the Wolf Pack and had just five points on 2-of-8 shooting (1-of-7 3's), three assists and four steals in 34 minutes.
UNLV held Nevada (9-22), which at times looked like it was dribbling with a hand grenade, to just 28.8 percent shooting and 17 first half points. The Wolf Pack announced minutes after head coach David Carter held his press conference that Carter had been fired. He was 98-97 in six seasons in Reno but won three of his final five games against the Rebels.
AJ West nine points, 18 rebounds (12 offensive) and four blocks and Eric Cooper Jr. finished with 10 points to lead Nevada, which lost six of its final seven games.
RELEASE | Carter will not be retained as Nevada men's basketball coach http://t.co/6vvu1OXQVF

— Nevada Wolf Pack (@NevadaWolfPack) March 12, 2015
PHOTOS COURTESY OF MOUNTAIN WEST/NCAAPHOTOS.COM
Related Articles
Share
About Author
(0) Readers Comments