RENO – Goodluck Okonoboh slowly limped over to press row to do a postgame interview with UNLV radio announcers Jon Sandler and Robert Smith after the Runnin' Rebels held off Nevada, 67-62, on Tuesday night at Lawlor Events Center.
Yes, his right foot, which has plantar fasciitis, is still very painful for the 6-foot-10 freshman forward and likely will be for the remainder of the season. But despite the injury, Okonoboh showed that he can still dish out a little pain and punishment himself.
Okonoboh scored 13 points, including a layup off a Patrick McCaw assist with 2:43 to go that put UNLV (12-9, 3-5 Mountain West) ahead for good, grabbed nine rebounds and blocked five shots to help the Rebels snap a three-game losing streak against the Wolf Pack (6-13, 2-5).
Christian Wood scored a team-high 16 points and had 11 rebounds for his Mountain West leading 11th double-double, Rashad Vaughn finished with 10 points and Jelan Kendrick added nine points and four assists for UNLV, which held Nevada to just 35.7 shooting while finishing with a 36-26 advantage in points in the paint and, more importantly, a 10-9 edge in second chance points.
It was quite a turnaround from the first meeting on Jan. 7 at the Thomas & Mack Center when Nevada finished with 22 offensive rebounds and a 19-11 edge in second chance points en route to a 64-62 victory.
"We told our guys whoever was the toughest for the entire game was going to win the game," UNLV coach Dave Rice said. "And I thought we were very, very tough down the stretch. … I think we grew up and got tougher tonight."
No one more so than Okonoboh, who gutted his way through 26 minutes and nearly finished with a double-double.
"It's really painful," he said of the foot.
It's an injury that has hampered a number of top athletes in recent years including NBA players Pau Gasol and Joakim Noah and major league baseball stars Albert Pujols and Evan Longoria.
"Just rest," Okonoboh said on what he needed to do to rehab. "Therapy. Just ice my foot all the time. Just stretch. Just keep on stretching. I've got to step it up. … I'll be fine. I'm a good healer."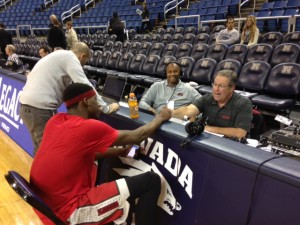 AJ West, the nation's leading offensive rebounder who tormented the Rebels to the tune of 15 points and 15 rebounds (10 offensive) in the first meeting, finished with identical numbers – 15 points, 15 rebounds (10 offensive) – despite battling early foul trouble but his supporting cast let him down.
Nevada, which rallied from a 12-point first half deficit to tie it, 43-43, on a Tyron Crisell free throw with 11:11 to go, went over eight minutes without a field goal and connected on just two of its final 17 shots as UNLV closed the game out on a 16-5 run. The Wolf Pack also squandered chances at the free throw line, hitting just 17-of-27 attempts.
"It's a big deal for us, after the way we played in the first Reno game, to come up here and get a win," Rice said.
Despite Nevada's offensive struggles, the Wolf Pack still managed to forge a 56-55 lead on two free throws by Marqueze Coleman with 3:01 to go.
But Okonoboh's driving layup put UNLV ahead for good and, after Coleman missed an awkward floater, Wood made it a two-possession game with a 3-pointer off a nice feed by McCaw (game-high six assists) late in the shot clock to make it 60-56.
"I thought the best thing about that is that we didn't settle," Rice said. "We didn't lose out patience and I thought we showed great poise and got a pretty good shot at the end."
"We've been in so many close games, that even though a lot of the games we've been losing, we've been learning a lot about how to close out games," Okonoboh, who watched the final 42 seconds on the bench after fouling out, said. "I'm going to be honest, I knew we were going to win that game."
UNLV returns to action Saturday night at 7 p.m. when it hosts Air Force (8-11, 1-7) at the Thomas & Mack Center.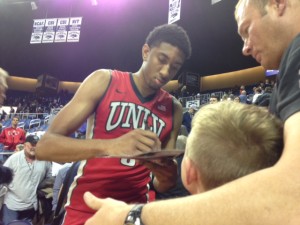 Related Articles
Share
About Author
(0) Readers Comments