For UNLV basketball fans, Christmas really did come early Tuesday night.
On an evening that started with fans finding special UNLV Santa hats on their seats, the Runnin' Rebels ended it doing their own version of Jingle Bell Rock, celebrating a 71-67 upset of No. 3 ranked Arizona on the floor of the Thomas & Mack Center with hundreds of fans who rushed the court after the final buzzer.
Forward Christian Wood scored a career-high 24 points and grabbed 10 rebounds and guard Rashad Vaughn added 21 points to lead the Runnin' Rebels who used a 11-5 run in the final five minutes to pull it out.
"It was ridiculous," Wood said of the wild post-game celebration. "I've never had that in in my life … just so many fans rushing the floor just yelling my name. It's an amazing feeling.
The Rebel win snapped Arizona's 39-game regular-season nonconference winning streak, longest in the nation.
"We didn't have an answer for Christian Wood and Rashad Vaughn," Arizona coach Sean Miller said. "Those guys had 19 field goals. We've held teams to fewer field goals than 19."
(STORY CONTINUES BELOW)
"I had high confidence that we were going to win this game," Vaughn, who finished 9-of-21 from the floor, said. "It was a fun game. If we play like that every game, the sky is the limit. When we're focused as a team, I don't think anybody can beat us."
Guard T.J. McConnell scored 14 points and had seven assists and freshman forward Stanley Johnson finished with 13 points and 13 rebounds but also had a game-high seven turnovers for Arizona (12-1), which was outrebounded 46-33. UNLV finished with 14 offensive rebounds, including five by Wood, which resulted in a 19-8 edge in second chance points.
"This was a much-needed night for us to take a step backwards and work on the things that we need to work on and rekindle our fire defensively," Miller said. "Winning on the road you have to be a great defensive team and tonight we were the furthest thing from that."
UNLV (8-3), which lost its three previous games against Pac-12 teams Stanford, Arizona State and Utah by an average of 21.3 points, rallied from an early seven-point second-half deficit to tie the game 50-50 on a fast-break layup by guard Patrick McCaw with 13:44 to go.
Arizona went on an 8-2 run, capped by McConnell's layup, and seemed to regain control of the game.
But with Arizona center Kaleb Tarczewski hampered by four fouls and forward Rondae Hollis-Jefferson on the bench after fouling out with 7:14 remaining, the Rebels roared back to take a 65-62 lead as the 6-foot-11 Wood scored three baskets in less than two minutes on powerful drives to the hoop.
"(Wood) is a great player but I think as a team our principles are to stop him when he drives," McConnell said. "It wasn't just one guy getting beat, it was all of us. As a team our defense was just absolutely pathetic, and that's the reason we lost."
Another driving basket by Vaughn upped UNLV's lead to five points with 2:14 left. Arizona closed to within 68-67 on a rebound basket by McConnell with 59.7 seconds remaining but missed two chances in the final 32 seconds — a driving layup by Johnson and an open 3-pointer by forward Brandon Ashley, who scored 13 points.
McCaw, who finished with 13 points, sealed the upset by sinking three free throws in the final 6.6 seconds. Rebel fans then stormed the court after the final buzzer as UNLV celebrated its biggest victory since a 90-80 upset of then No. 1-ranked North Carolina on Nov. 26, 2011 in head coach Dave Rice's first season.
"It's just a signature win," Rice said. "It's probably worth way more than one win. The bottom line is we have stayed together through thick and thin. This is definitely a major step in the correct direction."
"That was as loud as I've heard the Thomas & Mack since I've been here," Wood added. "It was really crazy. It lets the nation know we're a good team."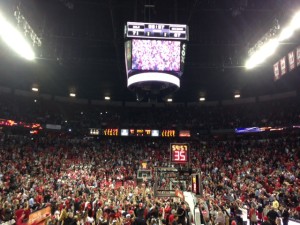 Related Articles
Share
About Author
(0) Readers Comments