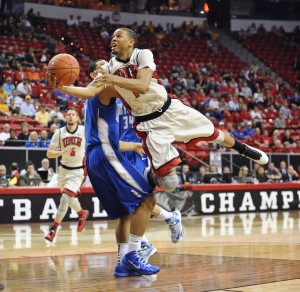 UNLV seems to be getting healthy at the right time as March Madness gets underway.
The same couldn't be said for Air Force following Wednesday afternoon's 72-56 loss to the Runnin' Rebels in the quarterfinals of the Mountain West Tournament at the Thomas & Mack Center.
On an afternoon when star forwards Anthony Bennett (23 points, seven rebounds) and Mike Moser (nine points, 10 rebounds) started together for the first time since a Jan. 24 win over Wyoming – and were semi-healthy together for the first time Moser's gruesome elbow injury in a 76-75 overtime win at Cal on Dec. 9 – it were the Rebels who were on the opposite end of some good fortune on the injury front.
Senior guard Michael Lyons, a first team all-Mountain West pick who scored 27 points in the Falcons' 71-56 win over the Rebels in Colorado Springs on Feb. 13, left the game after less than two minutes with a right knee injury. Senior center Taylor Broekhuis, the Falcons' fourth leading scorer and best post defender, wasn't too far behind with a cut chin and apparent concussion.
(STORY CONTINUES BELOW)
The Rebels (24-8), who led 5-3 at the time of Lyons' injury thanks to a steal and highlight-reel layup by Bryce Dejean-Jones, showed no mercy, building a 28-12 lead over the next 13 minutes en route to a 33-20 halftime advantage.
"Obviously it wasn't the game that we anticipated or prepared for," Air Force coach Dave Pilipovich said. "When you lose two key components of your starting group – Mike Lyons in the first minutes of the game, then Taylor Broekhuis – we had to make adjustments on the fly. It took us a while. You guys probably wondered if we were going to score again."
Bennett, showing no ill effects from a left shoulder injury that had slowed him for the past three weeks, took it from there, scoring 19 second half points, putting on a dunk show in the process.
"My teammates were giving me the ball in the first half," Bennett said. "I was trying to look out for everybody, just kick it out of the post. So I think in the second half they kind of laid back on me. So I just took advantage."
UNLV finished a 38-18 edge in points in the paint and a 15-8 advantage in points off turnovers. The Rebels, who shot 51 percent, also finished with a 36-26 rebounding edge, a big difference from the loss to the Falcons a month earlier when Air Force won the battle of the boards, 35-24, including 11 offensive rebounds.
"Anthony Bennett got us going," UNLV coach Dave Rice said. "We challenged our guys defensively and we did a good job."
UNLV will play Colorado State, which grinded out a 67-61 victory over Fresno State, in Friday night's semifinals at 8:30.
— MyLVsports staff report/Photos by David Cleveland
Related Articles
Share
About Author
(0) Readers Comments