UNLV appeared to be on its way to a pretty mundane 68-58 victory over Air Force on Saturday afternoon at Thomas & Mack Center.
The Runnin' Rebels (24-6), behind the outside shooting of Chace Stanback (21 points, 5-of-7 3-pointers) and Oscar Bellfield (8 points, 2-of-4 treys), jumped out to an early 18-4 lead and led by as many as 20 points (35-15) in the first half.
But a minor dust-up in the second half that started with center Brice Massamba getting tripped by Air Force forward Chase Kammerer and concluded with an angry Massamba having to be restrained by Mike Moser from taking on the Air Force bench made this victory anything but ho-hum.
(STORY CONTINUES BELOW)
And even though Massamba picked up a technical foul that helped Air Force (13-13, 3-9) close to within 10 points, 53-43, with seven minutes to go, Rebels coach Dave Rice was happy with the way his team responded to the situation.
With Massamba on the bench following his fourth foul, the Rebels quickly went on a 7-0 run to stifle any Air Force plans for a dramatic comeback win.
"I told the guys after the game there were a lot of things I was very proud of but the thing I was most proud of is that they had Brice Massamba's back," Rice said.
"When that situation took place and Brice had to go to the bench with his fourth foul, our guys responded and played as hard and as together as they had all day … It shows the sign of a team that is together. It also speaks volumes of the respect our guys have for Brice Massamba and what he represents to this team."
So just what was it that set off the normally mild-mannered 6-foot-10, 245-pound senior center from the famed tough streets of Linkoping, Sweden?
"They said something from the bench," Massamba said. "I can't really say (what it was) in the media but they said something and I just lost it."
Massamba, who initially jumped up and had to be separated from Kammerer after the trip under the basket, was near midcourt and returning to the UNLV bench area when he suddenly spun around and headed toward the Air Force bench.
Rebel forward Mike Moser, who finished with seven points, 11 rebounds and six steals, then came up with a very big block, grabbing Massamba before he could land into more trouble.
"I tried to explain to him how important these next couple of games are and that we didn't need anything bad to happen where he'd have to sit out," Moser said. "Really don't know what happened."
"We're still trying to get to the bottom of that," Rice said.
Here's how Massamba recalled what happened:
"He (Kammerer) fell and I was trying to run back on the fast break … and he tripped me with his leg. I asked him, 'What the (bleep) are you doing?' The ref came in and everything, and I was walking away because I saw Coach (Rice) screaming at me, and then some guy (on the Air Force) bench said something. I can't really say it right now."
Was Massamba sure the comment came from the Air Force bench?
"It was pretty bad," Massamba said. "I'm sure (it was someone on the Air Force bench that said it). I wasn't the only one who heard it."
Did anyone apologize afterward?
"No," Massamba said.
Moser's quick thinking may have saved Massamba from an ejection which could have resulted in a suspension for Wednesday night's game at Colorado State. That contest took on even more meaning Saturday when TCU defeated New Mexico, 83-64, moving the Rebels back into a tie for first place in the Mountain West with the Lobos (22-6, 8-4). A win at Fort Collins would give UNLV the tiebreaker in the event of a two or three-way tie for first place in the Mountain West with the Lobos and San Diego State.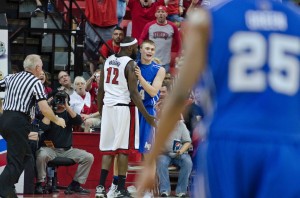 Related Articles
Share
About Author
(0) Readers Comments