The fat lady was singing loud and clear after UNLV's 95-82 loss to Fresno State on Thursday night in the quarterfinals of the Mountain West Tournament at the Thomas & Mack Center. And the background arrangement sounded very much like "Taps" on a 2015-16 season that contained more than its share of adversity for the Runnin' Rebels.
UNLV, suiting up just six scholarship players and playing a little over 24 hours after a draining 108-102 three-overtime win over Air Force, finally ran out of gas down the stretch.
Down 11 with 3½ minutes to go, guards Jerome Seagears and Patrick McCaw took turns firing air balls from 3-point range on back-to-back possessions and Fresno State (23-9) cruised to the finish line to complete its first-ever three-game season sweep of the Rebels.
"We were battling hard but you could tell on a few shots that we didn't have the same legs," senior guard Ike Nwamu said. "It's not an excuse but (fatigue) did play a role."
"It was definitely tough," Seagears, who finished with 17 points and a career-high 11 assists, said. "We had it in us but you could see towards the end it was tough playing with six guys coming off a triple-overtime game. No excuses. We gave it our all."
(STORY CONTINUES BELOW)
Guard Julien Lewis had 27 points, including 3-of-5 3-pointers, and eight rebounds to lead the Bulldogs, who hit their first eight shots en route to a 23-14 lead and never trailed in the contest. Former UNLV recruit Cezar Guerrero scored 17 points, Mountain West Player of the Year Marvelle Harris finished with 16 points and five assists and forwards Terrell Carter (13 points, six rebounds) and Karachi Edo (12 points, three blocks) dominated inside for Fresno State, which will face Colorado State, an 88-81 winner over Boise State, in Friday night's semifinals at 8:30 p.m.
McCaw had a game-high 28 points to lead UNLV which finished with 14 turnovers that led to a 25-9 edge in points off turnovers for Fresno State. Freshman forward Stephen Zimmerman Jr., in likely was his final game as a Rebel, finished with 13 points and six rebounds before fouling out while Nwumu added 12 points and seven rebounds.
Now the spotlight turns to the school's head coaching search which athletic director Tina Kunzer-Murphy indicated will likely last until around the Final Four. Zimmerman, regarded as a potential NBA lottery pick, and McCaw said afterward they will sit down with their families and decide whether to turn professional or return to UNLV next season.
Seagears was asked about the heart the team displayed during a season that included the mid-season firing of head coach Dave Rice, the surprise suspension of starting forward Derrick Jones Jr. in the final week of the regular season because of a invalid ACT score and key injuries to forwards Ben Carter and Dwayne Morgan.
"I guess you could probably sum it up that guys never gave up this year," Seagears said. "There were so many situations where guys could have put their head down and wrapped it up for the end of the season, injuries, just in terms of guys getting ready for the next level. But guys never looked at the situation like that. They looked at it as we're going to give it all we got until the fat lady stops singing."
Kunzer-Murphy will meet with the coaching staff and team today to discuss the possibility of participating in a post-season tournament but indications after the game that UNLV, because of the team's coaching and injury situation, would likely end the year at 18-15 and without a post-season tourney for a third straight year.
"It's no secret we've been through a lot this season," Nwamu said. "Our whole theme was to stay together and stay strong and make sure we persevered through everything, and that's really what we did."
Click on Box Score Below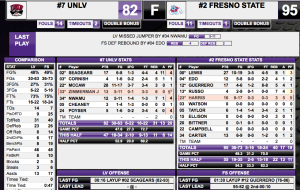 Related Articles
Share
About Author
(0) Readers Comments