Now that's more like it.
After narrowing escaping its exhibition game with a good Division II team, Dixie State, 81-80, in overtime, the 18th-ranked UNLV Runnin' Rebels didn't mess around in their season opener with Northern Arizona.
With freshman forward Anthony Bennett (22 points, 7 rebounds, several monster dunks in just 20 minutes) and USC transfer Bryce Dejean-Jones (15 points, 3-of-4 3-pointers) both starring in their official UNLV debuts, the Rebels (1-0) crushed the Lumberjacks, 92-54, before a crowd of 18,187 at the Thomas & Mack Center, the largest to witness a home opener in school history.
This against the same Northern Arizona (1-1) squad that led Pac-12 heavyweight Oregon by a point with six minutes to go just two nights earlier in Eugene.
(STORY CONTINUES BELOW)
Bennett, a McDonald's All-American from nearby Findlay Prep considered by some the UNLV's top recruit since Larry Johnson, wasted little time showing what all the hype was about, scoring nine straight points before the first media timeout as UNLV opened a 13-5 lead.
The 6-foot-8, 240-pound forward started his streak with a power dunk, followed it up with a fast break layup, nailed a 3-pointer and then scored another layup, all in the space of three minutes.
Not too shabby.
Then it was Dejean-Jones' turn to take the spotlight.
The 6-foot-5 sophomore, who sat out most of October with a broken left hand, scored UNLV's next eight points, including a pair of 3-pointers, and the Rebels led, 21-7, with 10:35 left in the half.
Northern Arizona cut the lead to 29-23 on a 3-pointer by guard Michael Dunn, but the Rebels answered with a 21-0 run, including 16-0 to end the half en route to a 45-23 halftime lead.
Unlike the exhibition game with Dixie State, the Rebels came out after intermission keeping the pedal to the metal, quickly extending their lead to 32 points, 60-28, on a 3-pointer by point guard Anthony Marshall with 15:56 remaining.
UNLV led by as many as 40 points, 82-42, after Quintrell Thomas sank a pair of free throws with 5:20 to go.
Besides the 21-0 scoring spurt at the end of the first half and the start of the second half, the Rebels put up some other pretty impressive numbers.
UNLV finished with a 42-8 edge in points in the paint, had a 21-0 advantage in fast break points and outrebounded the Lumberjacks, 51-29.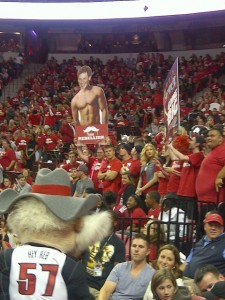 Marshall finished with 14 points, 6 assists, 2 steals and just one turnover and didn't miss a shot, hitting all six field goal attempts, including a pair of 3-pointers.
Freshman guard Katin Reinhardt also scored 14 points in his college debut, including a pair of treys, and dished out four assists.
And junior forward Mike Moser, a preseason all-Mountain West pick, grabbed a game-high 11 rebounds to go along with 4 assists and two points.
UNLV's other highly touted freshman newcomer, Savon Goodman, also sparkled in his debut, finishing with 11 points on 5-of-9 shooting and grabbing 5 rebounds in just 16 minutes.
The Rebels return to action on Saturday night when they host Jacksonville State at 7 p.m. at the Thomas & Mack.
Related Articles
Share
About Author
(0) Readers Comments