BY STEVE GUIREMAND
MyLVsports.com

UNLV coach Dave Rice figures to have a pretty extensive scouting report for San Jose State's top scorer when the Runnin' Rebels face the host Spartans tonight (7 p.m., ESPN3).
Freshman Rashad Muhammad, who is averaging a team-best 14.8 points per game and has made 55 3-pointers, helped lead Bishop Gorman to the 2013 state title last season for Rice's brother, Gaels' head coach Grant Rice.
And Muhammad, the younger brother of former UCLA star and current Minnesota Timberwolves guard Shabazz Muhammad, is also the second cousin of UNLV guard Bryce Dejean-Jones.
"We basically grew up working out together," Dejean-Jones, who leads UNLV (13-7, 4-3 Mountain West) in scoring with a 14.4 average, said. "It's good to come out here and finally get a chance to play against each other on a big stage."
(STORY CONTINUES BELOW)
Dejean-Jones, UNLV's top perimeter defender, was asked if he thought he'd get the assignment to guard his high-scoring second cousin.
"I would hope so," he said. "He's their best scorer so try and go out there and shut him down. I mean, he's doing a great job. I'm real proud of the progress I'm seeing him make."
Dejean-Jones said he keeps in regular contact with Muhammad and talked to him Monday about the game.
"We talk to each other a lot, just asking how each other is doing and stuff," he said. "When he comes back we usually hang out with each other."
UNLV brings a two-game winning streak into tonight's game with the Spartans (6-14, 0-8), who lost by just four points at home to New Mexico (69-65) and two points to Colorado State (66-64). Dejean-Jones, who hit a crucial 3-pointer late in Saturday's 75-73 overtime victory over Fresno State, also is bringing three staples in his scalp (see photo below) to repair a nasty cut courtesy of an elbow to the head that he received during the team's 62-42 victory over Utah State last week.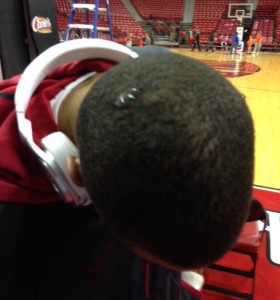 "It's a tough thing going out there and playing with them," Dejean-Jones said. "It's always in the back of my mind about getting hit again but I'm not really afraid of that. Just staple it back up again and go out there."
Dejean-Jones said he has been told the staples could be removed after tonight's game.
This will be UNLV's first meeting with Mountain West newcomer San Jose State since 1997 and the only one during the regular season this year thanks to the league's unbalanced schedule format. The Rebels hold a 31-4 series edge against the Spartans including a 12-3 mark in San Jose.
Hear UNLV coach Dave Rice talk about the game in the Video below:
MAIN UNLV PHOTO COURTESY UNLV ATHLETICS
Related Articles
Share
About Author
(0) Readers Comments